Carpinteria Beach Activities
Carpinteria State Beach and its neighbor Carpinteria City Beach are advertised as among the safest swimming beaches along the California coast. An off-shore reef which causes waves to break far from shore and a gently sloping bottom reduce the hazard of rip tides. Families enjoy gathering here for a day of sun and relaxing. Walkers find miles of beach and bluff trails to explore. Surfers know where the best waves are breaking.
Lifeguards are on duty at both beaches during the summer months. Picnic tables, BBQs, restrooms, and showers are located nearby. At Carpinteria State Beach there are covered ramadas which may be reserved for picnicking events (805) 684-7487. At Carpinteria City Beach visitors will find volleyball nets, restrooms, and picnic tables. The Beachhouse there rents kayaks and other beach recreation items.
Caution: Check with rangers or lifeguards that conditions are safe for your planned activities.
Visitor Center
The Visitor Center at Carpinteria State Beach features an indoor tide pool with live marine animals. It also has displays providing information about the Chumash Indians.
Hiking the Coast
Hikers can set out in either direction along the coast and enjoy scenic walks. Heading southeast hikers pass Jellybowl, Tar Pits Park, the oil company pier, and then the Harbor Seal Preserve. There hikers turn inland, if they have not already, to avoid disturbing the seals.
Ambitious hikers can return to the beach (or stay on the bluff) beyond the preserve and continue all the way down the beach to Rincon Point (3 miles one way). Another choice is to turn inland, cross the railroad tracks, and pass into the Carpinteria Bluffs Natural Preserve.
The Bluffs Natural Preserve has a parking lot at the end of Ballard Avenue off Highway 101, about 2 miles from the picnic area of the State Beach.
Walkers heading north along the beach in less than a mile encounter the sometimes substantial flow of Santa Monica Creek emptying into the ocean at Sand Point.
Surfing at Carpinteria
While the expert surfers gather to the south at Rincon Point, beginning and intermediate surfers find some nice waves along the Carpinteria shore. At nearby Santa Claus Beach, just north of Carpinteria City Beach, gentle waves make a good place for beginners to develop their skills.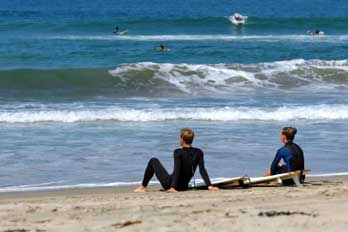 Surf Happens Surf School
Surf Happens has been providing surfing lessons around Santa Barbara since 2000. Throughout the year they offer private and group surfing lessons, surfing camps, and after school programs. They are based at the southern end of Santa Claus Lane, 2 miles north of Carpinteria State Beach.
(805) 966- 3613 Surf Happens
Local Surf Shops
A-Frame Surf Shop
3785 Santa Claus Lane, Carpinteria, CA
Sales, rentals, lessons, camps
(805) 684-8803 A-Frame Surf Shop

Rincon Designs
657 Linden Avenue, Carpinteria, CA
Rentals, custom surfboards, wetsuites, clothing
(805) 684-2413 Rincon Designs

Blue Pacific Surf Shop
905 Linden Avenue, Carpinteria, CA
(805) 566-4990