Leo Carrillo
State Park
Location
35000 Pacific Coast Highway,
28 miles northwest of Santa Monica, CA
(310) 457-8143
Admission
Day use per vehicle: $12
Gate locked: 10:00 PM - 8:00 AM
Canyon Campground
130 standard campsites for tents or RVs up to 31'
Restrooms with flush toilets, showers
Fire ring, picnic table
Dump station
Several accessible sites
Camp Store
Campfire Center
Group Campsite
Space for up to 50 people
Tent camping only
Located at the eastern end of Canyon Campground
Picnic tables, fire rings, BBQs
Camping Fees and Reservations
Reservations are site specific and cannot be changed after arrival.
Canyon Campground: $45
Sycamore Canyon Hike &amp Bike Sites: $10
Walk-in Group Site: $225
La Jolla Hike-in Site: $10
Online Reservations at ReserveCalifornia:
Leo Carrillo State Park Campground Reservations
or call (800) 444-PARK (7275) between 8 AM and 6 PM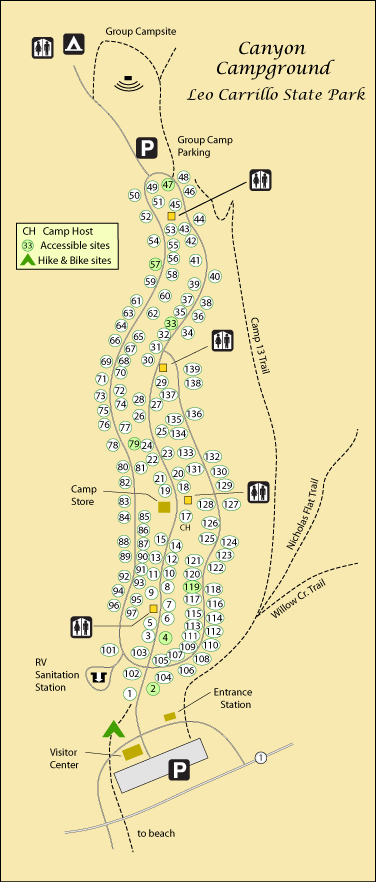 Lake Casitas and Lake Piru
Complete Information

For comprehensive information about Lake Casitas, Lake Piru, Lake Cachuma, and all of California's most popular lakes, see
Lake Casitas Campgrounds
Location: On the north shore by the marina
Phone: For Information (805) 649-2233, for Reservations (805) 649-1122
Lake Casitas Camping
Campground Facilities: Playgrounds, Showers, Restrooms
Campsites: All campsites come with Picnic Tables and Fire Rings
Lake Piru - Olive Grove Campground
Location: 40 miles east of Ventura, 0n the west shore of Lake Piru near the marina
Information and Reservations: (805) 521-1500
Lake Piru
Campground Facilities: Hot Showers, Piped Water, Restrooms, Dump Stations, WiFi
Campsite Amenities: All campsites come with Picnic Table, Fire Ring with Grill Top
Canyon Campground in
Leo Carrillo State Park
Canyon Campground, the main campground in Leo Carrillo State Park, has 130 sites available for tents, trailers, and RVs up to 31 feet. Mature sycamore trees provide plentiful shade throughout the campground. Reservations are now site specific, so when you arrive at the campground you cannot change your site. Campsites are for up to 8 people, 1 vehicle and 1 legally towed vehicle or trailer. Additional vehicles will be charged an extra fee.
Showers at Canyon Campground have switched to a token system. A one dollar bill fed into a token machine will produce 2 tokens. There is a camp store available to campers in the campground. Ropes, swings, hammocks or similar items may not be fastened to any plant, tree, fence, or park structure. Firewood is available from the camp host.
Suggestions and Comments from Previous Campers
The campsites on the outside of the loop offer a little more privacy.
Watch out for squirrels getting after your food.
Site #50 is small and has no shade.
Cell reception is unreliable.
Group Campsite
The Group Campsite at Leo Carrillo State Park is located at the eastern end of Canyon Campground. The group site is a tent only site that can hold up to 50 people. To reserve the group site, you must have at least 9 people. Camping fees cover 12 vehicles. Camping gear must be carried 100 feet from the group parking area to the campsite. Another 4 vehicles are allowed for an additional fee. The extra vehicles must be parked approximately 1000 feet away.
In addition to the group site, standard campsites numbered 31 - 49 may be reserved as a group site.
Nearby RV Campgrounds
Malibu Beach RV Park
25801 Pacific Coast Highway, Malibu, CA
(310) 456-6052 or (800) 622-6052
Malibu Beach RV Park
RV Sites: 142 sites, picnic tables, BBQ grills, 30/50 amp, full hook=-ups or water and electricity only
Tent Sites: 35 sites, picnic tables, dish washing area, BBQ grills
Amenities: Laundry, arcade room, game room, convenience store, restrooms with hot showers dump station, TV room, limited WiFi, lanai
Rates: $$
Walnut RV Park
19130 Nordhoff Street, Northridge, CA
(800) 868-2749 Walnut RV Park
24 miles from Malibu Pier and Surfrider Beach
RV Sites: Full hook-ups, 50 amp, cable TV for extended stay, WiFi
Amenities: Clubhouse with kitchen, meeting area, laundry, showers, swimming pool
Rates: $$
Balboa RV Park
7740 Balboa Blvd., Van Nuys, CA
(818) 785-0949 Balboa RV Park
21 miles from Surfrider Beach
RV Sites: Concrete patios, full hook-ups, cable TV, WiFi
Amenities: Restrooms, laundry, recreation hall
Rates: $$