Nearby Beaches
Leo Carrillo State Park
Location
35000 Pacific Coast Highway.
28 miles northwest of Santa Monica, CA
(310) 457-8143
Admission
Day use per vehicle: $12
Gate locked: 10:00 PM - 8:00 AM
Main Attractions
1½ miles of beach
Swimming, body surfing, windsurfing
Surf fishing
Camping, hiking
Facilities and Features
Parking, restrooms
Campgrounds with restrooms and showers
Lifeguards during summer
Dump station
Hiking trails
Picnic area
Camp store, visitor center
Tide pools
Accessibility
Parking, restrooms
Campsites, campground restrooms, showers
North Beach Picnic area
Beach access at North and South beaches
Camp store
Camp 13 Trail
Beach wheelchairs available at entry kiosks
Hazards
Rip currents
Rogue waves
Rattlesnakes and ticks
Slippery shoreline rocks
Special Regulations
Only vehicles with clearance less than 8 feet can enter the North Beach parking lot.
Dogs on leash allowed in campground, but must be in enclosed vehicle or tent at night.
No dogs on trails or fire roads.
Dogs are allowed on North Beach when on leash, but no other beaches.
No fires on beach, only in provided fire rings.
Do not disturb natural features.
Local
Maps & Books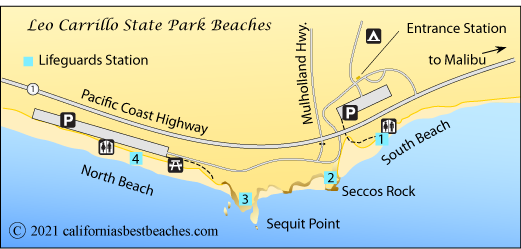 Leo Carrillo
State Park
Leo Carrillo State Park is 35 miles northwest of Santa Monica. The park has two beach areas North Beach and South Beach, which provide recreation for sun bathers, surfers, anglers, beach walkers, and divers. Good facilities, easy access, and varied coastal terrain make the beaches a favorite for visitors to explore and enjoy.
Robert H. Meyer Memorial State Beach
A short distance south of Leo Carrillo State Park is a series of small beaches which are clustered under the umbrella of Robert H. Meyer Memorial State Beach.
El Pescador Beach
La Piedra Beach
El Matador Beach
All three beaches have $8 paid parking.
El Pescador Beach
7½ miles north of Malibu a sign on the Pacific Coast Highway points to a small parking lot with restrooms and a trail and stairs leading down to the secluded beach. The beach is open from 6:00 AM to sunset. It is a good place to go to escape the crowds at Zuma Beach. Interesting rock formations, including sea stacks, are found along this section of coast, making it feel more like Big Sur than Malibu.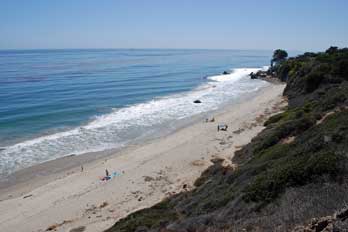 La Piedra Beach
Next door to the south of El Pescador Beach, La Piedra is a similar place. Find restrooms at the parking lot. While larger nearby beaches may be crowded, La Piedra will likely have only a sprinkling of visitors. This beach is also open from 6:00 AM to sunset.
El Matador
Located a mile south of La Piedra, El Matador Beach is the largest of the trio. Also open from 6:00 AM to sunset. Restrooms are located in the parking lot and a path and stairs lead to the beach. Along the bluff near the parking area are picnic tables.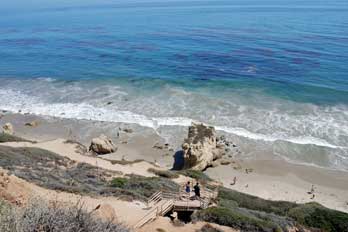 Nicholas Canyon County Beach
Between Leo Carrillo State Park and the series of beaches that make up Robert H. Meyer Memorial State Park is Nicholas Canyon County Beach. It is possible to walk south from Carrillo Beach to Nicholas Canyon Beach. Beach-goers at Nicholas Canyon Beach enjoy surf fishing, swimming, and surfing. Facilities include a picnic area, restrooms, showers, and a parking lot. Parking fees range from $3 to $10.
During the summer a food truck is often parked at the beach. Accessible paths lead from the parking lot to the beach. Lifeguards are on duty during daylight hours.
Nearby Supplies
Starbucks: 8 miles south at Point Dume Plaza, 29211 Heather Cliff Road, off Pacific Coast Highway
Lily's Cafe &amp Pastries: 8 miles south, near Starbucks
Coral Beach Cantina: 7½ miles south, at 29350 Pacific Coast Highway
Malibu Ranch Market: 7 miles south, at 29575 Pacific Coast Highway
Leo Carrillo State Park
Inland, the park includes chaparral, sage, and scrub along with a riparian woodland. In the spring and summer wildflowers bring color to the park. Closer to the shoreline around Arroyo Sequit grow sycamores, black walnuts, and willow trees. Park trails connect to the Nicholas Flat Natural Preserve, where visitors find Nicholas Pond.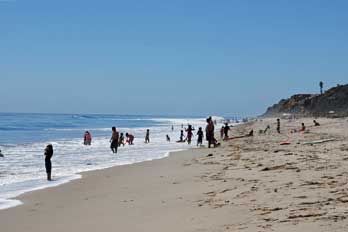 The beaches are composed of coarse sand that slopes steeply into the ocean. Waves break hard on the shore, making it unsuitable for inexperienced swimmers. Check with the lifeguard about conditions before entering the water. A picnic area is found at the North Beach next to the parking lot. From there a short accessible trail loops along the edge of the sand.
Note that a low undercrossing of the highway on the park road leading to North Beach only has enough clearance for vehicles less than 8 feet tall.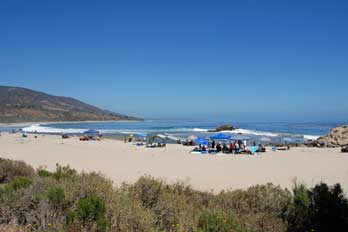 Wildlife
Visitors to the park often sight red-tailed hawks overhead and woodpeckers, quail, and even an occasional horned owl in the woodland areas. Mule deer, raccoons, and gray foxes roam the park, as well as smaller creatures such as salamanders, lizards, and snakes. At low tide the tide pools make interesting places to explore for everything from sea stars and crabs to mussels and anemones.
Offshore, watch for migrating gray whales, especially in April and May. Sometimes a mother whale and calf will venture close to the shore. Other marine mammals include harbor seals, sea lions, and dolphins. Shore birds abound, especially gulls, pelicans and cormorants.
Ocean Safety
California State Parks and Recreation cautions that "large surf, cold water temperatures, backwash, sudden drop-offs, pounding shorebreak, and dangerous rip currents can turn what seem like safe activities such as playing near the surf line, wading, or climbing on rock outcroppings, deadly." Learn more about ocean safety at CA State Parks: Ocean Safety
Search This Site