Coronado Beach
Little specks of mica in the sand make the beach sparkle as if it were dusted with gold. Coupled with the backdrop of the famed Hotel del Coronado and visitors feel as if they have arrived at some place slightly magical. The waves are usually fairly tame and the water warm enough for swimming. Volleyball nets are located near the main lifeguard tower. Most of the fire pits are located at the north end of the beach.
Promenade and Paths
A long promenade behind a low seawall extends along the edge of the sand making a a convenient course for those who want to enjoy the beach without plodding through sand. The promenade has many access points along its 1.8-mile length from Coronado Shores north to the Naval Air Station. At the foot of F Avenue a concrete path leads across the sand to the main lifeguard tower and adjoining restroom.
Hotel del Coronado
The famous Hotel del Coronado stands on the edge of Coronado Beach. The wooden Victorian beach resort opened in 1888, boasting 399 rooms, making it the largest resort in the world. Soon after it opened the Spreckels family took over sole ownership and operated the hotel until 1948.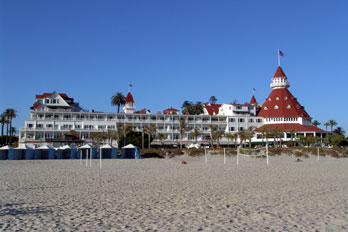 Hotel del Coronado
Among the amenities at the hotel were a yacht club, a Japanese tea garden, an Olympic-size salt-water pool, a bowling alley, and an ostrich farm. Famous guests have ranged from Presidents Harrison, Taft and Wilson to movie-stars Charlie Chaplin, Errol Flynn, and Douglas Fairbanks. More recent guests include Madonna, Barbra Streisand, and George Harrison.
The hotel is been modernized and continues to operate. It was recently valued at over half a billion dollars.
Coronado Dog Beach
The north end of Coronado Beach adjacent to Sunset Park has been designated as a Dog Beach where owners can turn their pets loose to romp in the sand and waves. Dogs must be walked on leash from cars to the beach and then monitor them once they are released on the dog beach. Bags for cleaning up after the dogs as available as is a dog washing station. The beach is open 24 hours a day. Many rate this dog beach as the best in the San Diego area.
Coronado Beach Restaurants
Coronado Boathouse 1701 Strand Way
Sheerwater 1500 Orange Ave.
Vigilucci's Ristorante 1300 Orange Ave. #200
Miguel's Cocina Mexican Restaurant 1351 Orange Ave.
Rhinoceros Cafe and Grill 1166 Orange Ave.
McP's Irish Pub & Grill1107 Orange Ave
Alexander's Pizza 849 Orange Ave.
Starbucks890 Orange Ave