Nearby
Events and Activities
Del Mar Horse Racing
2260 Jimmy Durante Blvd.
Del Mar, CA
Horse racing track seasons:
July 18 - Sept. 3, 2018
Nov. 8 - Dece. 2, 2018
Del Mar Horse Racing
Del Mar Harvest Festival
October 13-15, 2017
Art and craft show
Del Mar Fairgrounds
24,000 handmade American art and crafts in hundreds of booths
Entertainment and kids' activity center
Harvest Festival
Del Mar Fairgrounds Events
Professional Bull Riding
Other equine and rodeo events throughout the year
Del Mar Fairgrounds Event Calendar
Torrey Pines Gliderport
2800 Torrey Pines Scenic Dr.
La Jolla, Ca
Paragliding with a certified professional tandem pilot
Hang gliding
Torrey Pines Gliderport
Torrey Pines Golf Course
11480 Torrey Pines Park Rd.
San Diego, CA
Two 18-hole championship courses open to the public.
Past tournaments include the US Open, Farmers Insurance Open, and Junior World Golf Championships
Torrey Pines Golf Course
San Dieguito County Park
1628 Lomas Santa Fe Dr.
Del Mar, CA
Open daily 8 AM to dusk
125 acres - playgrounds, exercise stations, basketball, lawn areas, picnics, restrooms, and the Miracle Field, a fully accessible baseball field.
San Dieguito County Park
San Diego Botanic Garden
230 Quail Gardens Dr.
Encinitas, CA
Open daily 9 AM to 5 PM, admission fee
Plants from around the world - Mexico, Central America, New Zealand, South Africa, Tropical Rain Forests, and many more.
San Diego Botanic Garden
Surfing Del Mar Beaches
Surfers enjoy intermediate right and left beach breaks from the river mouth south to 15th Street. Among the favored spots are between 19th and 25th Streets. The Rivermouth is known to produce some good waves when the swells are rolling in from the northwest. South of 15th Street reef breaks attract a fair number of surfers.
Conditions change when the Santa Ana Wind is blowing. Rather than being pushed from the behind, the waves hit the off-shore blowing Santa Ana wind head-on and rise up with magnificent, clean faces and then barrels that sweep toward shore and finally crash all at once with an ominous crack.
Caution: Check with rangers or lifeguards that conditions are safe for your planned activities.
Torrey Pines Beach
At Torrey Pines Beach surfers hook up with right and left beach breaks over a sandy bottom. Rides are often short except at the river mouth where under the right conditions long rides are the rule. Although not too busy during the week, it can get somewhat crowded on the weekends. Expect a relaxed, friendly atmosphere. Surfing is usually best in the summer and the winter.
Black's Beach
Known as one of the best surfing spots on the coast, Black's Beach attracts a dedicated crowd of surfers who don't mind the difficult access. It is not a place for beginners or even intermediates. Scripp's Canyon offshore generates big swells that rush toward the beach, producing A-frame and hollow waves that can divide at various angles. Waves often rise to 15 feet.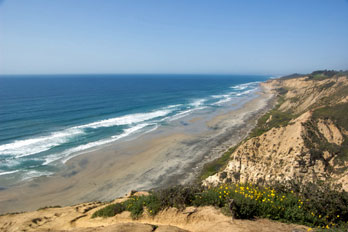 Black's Beach
Surf Lessons and Camps
Del Mar Surf School
Private or small group lessons. Surfboard and wetsuit provided. Beginner and intermediate lessons. Weekly summer surf camps at 22nd Street Beach in Del Mar. Open to ages 6 and older. Three to one student to instructor ratio. Camps run from mid-June through late-August with morning or afternoon sessions.
Del Mar Surf School
Menehune Surf
Lesson for everyone from beginners to advanced surfers at La Jolla. Menehune Surf Camps at Del Mar Beach for ages 5 to 17. Groups limited to 8-10 participants with two First Aid and CPR certified instructors who are experienced working with children. Half-day camps and full-day camps available. Week-long camps begin in June and continue through August.
Menehune Surf
Fulcrum Surf School
Fulcrum Surf School offers summer camps at Del Mar Beach at 15th Street from June 15 through August 29. Choose either a morning or afternoon session. Their student to instructor ratio is 2:1. Foam surfboards and wetsuits are provided. They also have private and group lessons.
Fulcrum Surf School Summer Camps
Surfboard and Paddleboard Rentals
Del Mar Surf Rentals
Rentals of surfboards, stand-up paddleboards, body boards, wetsuits, beach chairs and umbrellas, beach tents, and everything else you might want for a day on the beach.
Located in the Seagrove Parking Lot right across the street from 15th St. Beach in Del Mar, CA
Del Mar Surf Rentals
Rusty Del Mar Surf Shop
Rentals of soft surfboards, demo surfboards, boogie boards, and wetsuits.
201 15th Street, Del Mar, CA
Rusty Del Mar Surf Shop
Del Mar Beach Volleyball
Volleyball courts are located on North Beach (aka Dog Beach) in Del Mar, north of the rivermouth.
San Diego Beach Volleyball Club
Beach volleyball training for college and professionally aspiring athletes offered year-round at Del Mar's Dog Beach (North Beach). The club offers 1 to 8-week summer camps for boys and girls ages 10 to 18 to develop volleyball skills while they have fun. The club also offers a boys' beach club, a fall program, an 8-month club program, and private lessons and clinics.
San Diego Beach Volleyball Club
WAVE Volleyball
WAVE offers comprehensive volleyball training for boys and girls from kindergarten through 12th grade in their indoor and sand facility courts, as well as at their North "Dog" beach location. They also offer an Adult Beach training program.
WAVE Volleyball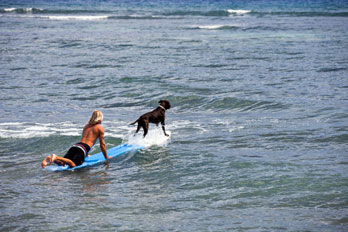 Helen Woodward Animal Center
Surfing Dogs
The Helen Woodward Animal Center sponsors a number of dog surfing activities during the year. Events help to support their programs at the Animal Center. Among their most popular event is their annual Surf Dog Surf-a-thon! to be held this year September TBA, 2018 at - of course - Del Mar's Dog Beach.
Helen Woodward Animal Center Surf Dog Surf-a-thon!
Surf Dog Lessons
Presented by the Helen Woodward Animal Center, Surf Dogs Surf Lessons are a great way to have fun with your dog at the beach. Lessons include beginners Intro to Ocean and Surf Class and GromMUTT Dog Surf Lessons. Offered at dates in June, July, and August at Dog Beach.
Surf Dog Surf Lessons
Del Mar Junior Lifeguards and
Little Turtles Programs
The Del Mar Junior Lifeguard Program develops ocean and beach safety, lifesaving skills, and physical fitness. Participants enjoy beach and ocean activities, learning rescue techniques, including cliff rescues and IRB rides. Junior Lifeguards emphasizes physical fitness, sportsmanship, teamwork, environmental awareness, and respect for the ocean while at the same time having fun.
Del Mar Junior Lifeguards program is open to individuals ages 9 to 17. Children ages 7 and 8 can participate in Little Turtles, a program designed especially for younger children.
First-time participants in the Junior Lifeguards Program must complete a swim test, offered at dates in April, May, and June at the Pardee Aquatic Center at the Boys & Girls Club San Dieguito. Little Turtles also have an easier swim test.
The Junior Lifeguard Program has 1-week, 2-week, and 4-week long sessions for 2017. Participants can sign up for either mornings or afternoons for each session. Little Turtles have 2-week long morning sessions.
Del Mar Junior Lifeguards
Torrey Pines State Natural Reserve
Torrey Pines State Natural Reserve's 2000 acres are home to a wide variety of plants and animals in a range of habitats from chaparral to wetlands. Special efforts are made to preserve the natural state of the area. Food and drinks (except water) are not allowed in the Reserve, nor are dogs permitted anywhere.
Guided Nature Walks and Hiking Trails
On weekends and holidays interpretive nature walks begin at the museum in the Visitor Center at 10 AM and again at 2 PM. For those who would rather explore the Reserve on their own, there is a network of trails that lead off to various parts of the Reserve, including to viewpoints overlooking the ocean.
Torrey Pines State Natural Reserve
Ocean Safety
California State Parks and Recreation cautions that "large surf, cold water temperatures, backwash, sudden drop-offs, pounding shorebreak, and dangerous rip currents can turn what seem like safe activities such as playing near the surf line, wading, or climbing on rock outcroppings, deadly." Learn more about ocean safety at CA State Parks: Ocean Safety