Torrey Pines
State Beach
Torrey Pines State Beach and the adjoining Torrey Pines State Natural Reserve spread over 2000 acres and extend 4½ miles along the coast just south of Del Mar. The beach begins at Del Mar and continues south past Los Penasquitos Marsh Natural Preserve to Torrey Pines Mesa.
The beach is accessed from two main entrances off North Torrey Pines Road - the North Beach Entrance and the South Beach and Reserve Entrance. Both locations have parking lots, restrooms, and picnic areas. The beach can also be reached from a ¾-mile hiking trail that begins at the Visitor Center in the Reserve and leads southwest to the beach at Flat Rock.
Sandstone bluffs run along most of the length of the beach and at high tides much of the sand can be covered.
Black's Beach
Secluded Black's Beach is toward the southern end of Torrey Pines State Beach. Black's is operated by California Parks and Recreation. South of Black's Beach, Torrey Pines City Beach is managed by the city of San Diego. Black's Beach has traditionally been a nude beach. Because of an offshore submarine canyon, ocean swells often produce great surfing conditions here. Treacherous currents make it a hazardous place to swim.
Access to Black's Beach
Flat Rock Beach Trail - Follow a marked and well maintained trail from the Reserve down to the beach at Flat Rock and then walk south. (about 2 miles total)
Walk the Beach - Walk north from La Jolla Shores Beach or south from Torrey Pines State Beach South Parking lot at low tide. It's a lengthy walk.
Salk Canyon Rd. - From the University of California San Diego at Blackgold Road and La Jolla Farms Road, students descend steep paved road to the southern end of the beach.
Gliderport Trail - This treacherous route leads down 300-foot high cliffs from near the gliderport and Salk Institute. It is not recommended because the cliffs are unstable.
Del Mar City Beach
Del Mar City Beach, north of Torrey Pines, is a popular destination for many seeking great expanses of warm sand and a wonderful place for families to enjoy a day playing in the surf. Many consider it the best all-around beach in San Diego County. Swimming, surfing, volleyball, sunbathing, and picnicking are the main attractions. Del Mar City Beach is divided into sections designated for various activities such as surfing and beach games, swimming and no games.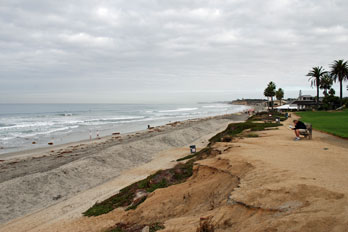 Dog Beach
A portion of the beach north of 29th Street is officially called North Beach, but best known as Dog Beach, a great place to run and play with your dog. From June 16 through Labor Day dogs must be on a maximum 6-foot long leash. Other times of the year dogs are allowed to run free on the beach as long as they are under voice control of the owner. Dog beach extends north for ½ mile. It includes the area around the mouth of San Dieguito River.
Dogs are allowed on the Main Beach (north end of Powerhouse Park to 29th Street) while on leash after Labor Day until June 15. During the summer dogs are not allowed on the main beach. From Powerhouse Park south to the border of Torrey Pines at 6th Street dogs are allowed on the beach year-round while leashed.
Facilities
Near the main lifeguard tower at 17th Street are restrooms and showers. Restrooms are also located near the 25th Street lifeguard tower. Volleyball courts are found near the river mouth.
Parking at Del Mar City Beach
Parking is limited in Del Mar, both by a shortage of available spaces and by short-time-span meters. Several parking lots are located near the beach. Most meters are $3 per hour, some at South Del Mar are $1.50 per hour. Credit cards or cash are accepted at these Pay and Display meters.
Lots are located at North Beach and at 17th Street. Metered parking can be found along many of the streets near the beach. There are free parking spaces in Del Mar, but they may be difficult for visitors to find. Check the City of Del Mar's Free-Parking Information.
Powerhouse and Seagrove Parks
Two parks adjacent to the beach offer more services - Powerhouse and Seagrove parks.
Seagrove Park is open from 7 AM to 10 PM. It has a picnic area, a nice expanse of grass, and views of the ocean. Right across the railroad tracks, Powerhouse Park runs adjacent to the beach. At the park you find restrooms, picnic areas, and a children's playground. Many parents find the passing trains a popular attraction for their young children.
Beach Supplies
Rusty Del Mar Surf Shop - 201 15th Street, Del Mar
Sunglass Hut - 1555 Camino Del Mar #116 (Del Mar Plaza)
Vons - 2606 Del Mar Heights Rd.
7-Eleven - 13835 Mango Dr., Del Mar
Carmel Valley Market -2302 Carmel Valley Rd.
Ocean Safety
California State Parks and Recreation cautions that "large surf, cold water temperatures, backwash, sudden drop-offs, pounding shorebreak, and dangerous rip currents can turn what seem like safe activities such as playing near the surf line, wading, or climbing on rock outcroppings, deadly." Learn more about ocean safety at CA State Parks: Ocean Safety