Nearby Activities and Events
Malibu Music and Arts Festival
March 2, 2018
Open to middle school and high school students.
Malibu Music and Arts Festival
Malibu Arts Festival
A free, 2-day event on the last weekend of July
Includes food, live music, a wine and beer garden, and fun activities for kids
Malibu Arts Festival
Malibu Half-Marathon
November TBA, 2018, 7:00 AM
Tentatively Half Marathon begins at 7:30 AM at Point Mugu Beach and finishes at Point Mugu Beach.
Malibu Half Marathon
Malibu Lagoon Museum
23200 Pacific Coast Highway, Malibu, CA
Historic Adamson House and Malibu Lagoon Museum
Docent led tours
(310) 456-8432
Malibu Lagoon Museum
Calabasas Bark Park
4232 Las Virgenes Rd.
Calabasas, CA
Calabasas City Park designed for dogs, open 5 AM - 9 PM
Separate gated children's play area, doggie drinking fountain
818-224-1650
Calabasas Bark Park
Lake Piru
43 miles north of Malibu
Boating, fishing, camping
Lake Piru
A Diver's
Guide to Southern California's Best Beach Dives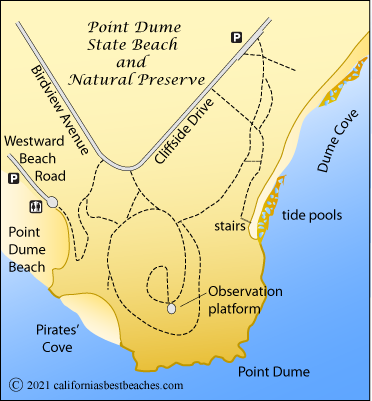 Point Dume Rock Climbing
The cliffs along the face of Point Dume are popular with experienced rock climbers. Most of the routes are 5.9 or lower. Bolts are in place for some ascents and at the tops of many climbs, but some of the bolts may be unreliable. Because of the good protection, Point Dume is considered an excellent place for beginning and intermediate climbers to develop their skill under the guidance of experienced climbers.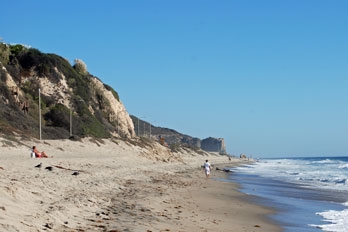 Kayaking
Dan Blocker Beach is a favorite launching spot with kayakers. It has an exposed south facing beach. After making a morning launch through 2 to 4-foot waves, kayakers are often greeted with rolling swells, warm sunshine, and a gentle breeze. Sea lions, seals, and dolphins are usually nearby.
Experienced kayakers know that the afternoon winds usually blow from the west, making that the ideal direction to head out in the morning in order to have the wind at your back on the home run. The 5-mile paddle to Dume Point from Dan Blocker Beach takes a little more than an hour. A number of good landing beaches are found around Dume Point. Friendly lifeguards will often help with landings back at Dan Blocker Beach by clearing a space of people if you set it up ahead of time.
Fishing
Fishing along the coast from Paradise Cove to the westernmost tip of Point Dume is prohibited. Limited fishing is permitted from Point Dume to El Matador State Beach. The restrictions went into effect January 1, 2012, to protect a rare underwater canyon and kelp reef. The area from Paradise Cove to Point Dume has been designated by the California State Fish and Game Commission as a Marine Protected Area. From Point Dume to El Matador has been designated a State Marine Conservation Area.
Exploring Point Dume
The headlands, cliffs, trails, and beaches of 63-acre Point Dume State Beach and Point Dume Natural Preserve make an exciting location for a day of exploring. Park at Point Dume Beach and pick up the trail at the cul-de-sac at the end of Westward Beach Road. Limited alternate parking is found on Cliffside Drive up near the top of the bluff. Access the Cliffside Drive parking by taking Birdview off Westward Beach Drive.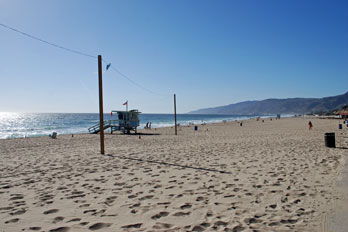 The trails from Point Dume Beach or Cliffside Drive lead up to an ancient coastal bluff sand dune with an amazing view. From the summit visitors can look out to Santa Monica Bay, along the Malibu coast, and inland to the Santa Monica Mountains. In the distance Catalina Island is visible on clear days.
Caution: Check with rangers or lifeguards that conditions are safe for your planned activities.
A boardwalk leads to an observation platform which is often more sheltered on windy days. It makes a great place to watch for whales during their annual migration, anytime from December through March. Often park visitors spot sea lions, harbor seals, and dolphins swimming just offshore.
Another trail traverses off the eastern side of the bluff to a stairway that descends to an isolated beach at Dume Cove. Tide pools await those who arrive at low tide. Look for sea stars, mussels, crabs, sea urchins anemones, and perhaps even a shy octopus.
Cliffs provide places for birds to roost. Over 100 types of birds are found here. Watch the sky for brown pelicans, falcons, and hawks. Other animals roam the park, including coyotes, raccoons, rabbits, and skunks.
Park rangers ask that visitors stay on the fenced park trails to avoid damaging wildlife habitat. Dogs are not allowed in the park.
Point Dume Surfing
A popular surfing spot off Point Dume is accessed via the trail on Cliffside Drive. Follow the trail to the stairs and down to the beach. Good surfing is found at the point between Dume Cove and Paradise Cove. The right point break can be crowded almost any time.
Point Dume Diving
Divers set out from Point Dume Beach to explore the amazing underwater world around the point. Close offshore the bottoms angles down into the depths of Dume Submarine Canyon. A long swim out takes divers to one of the most popular destinations on Point Dume - the Point Dume Pinnacles tower 25 to 50 feet. A myriad of sea life inhabits the area, including rays, sharks, sea lions, whales, cabezon, treefish, and rockfish. At low tide both pinnacles break the surface. During low tide divers can hike around the cliffs to Pirate's Cove, making the swim out shorter.
Currents are strong around the point, making it a hazardous place to dive. Always check with the lifeguards before setting out to find out about current conditions.
Ocean Safety
California State Parks and Recreation cautions that "large surf, cold water temperatures, backwash, sudden drop-offs, pounding shorebreak, and dangerous rip currents can turn what seem like safe activities such as playing near the surf line, wading, or climbing on rock outcroppings, deadly." Learn more about ocean safety at CA State Parks: Ocean Safety