Nearby Beaches
Point Dume Area Beaches
Point Dume Beach
Location: end of Westward Beach Road
Operated by LA Dept. of Beaches & Harbors
LA County Beaches Tourist Information, contact Marina del Rey Visitor Center:
(310) 305-9545
Admission
Parking:
winter 6AM-9AM $3
6AM-4PM $8
summer 6AM-9AM $3
6AM-6PM $14
Hours: sunrise to sunset
Facilities and Features
Restrooms, showers, picnic tables
Lifeguards, food concession
Swimming, surfing, fishing, tide pools
Escondido Beach
Location: Follow path from Malibu Colony Dr. down Escondido Creek
Admission: free, limited parking along roadside
Hours: sunrise to sunset
Facilities and Features
No facilities
Popular with divers
Dan Blocker County Beach
Location: 26000 Pacific Coast Highway
Hours: sunrise to sunset
Operated by LA Dept. of Beaches & Harbors
Admission: free, limited parking along roadside
Facilities and Features
Portable restrooms, lifeguards
Swimming, surfing, fishing, diving, tide pools
Paradise Cove Beach
Location: 28128 Pacific Coast Highway
Hours: sunrise to sunset
Private beach
Parking: $40
Facilities and Features
Restaurant, pier, lifeguards
Swimming, tide pools, sunbathing
Zuma Beach webcam:
Zuma Beach Webcam
Local Hikes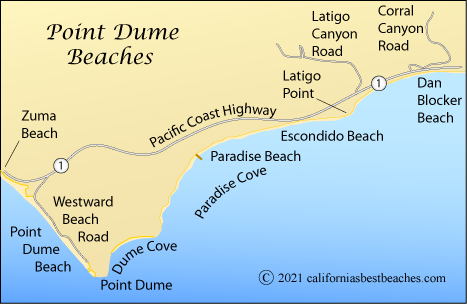 Point Dume Area Beaches
A string of beaches both north and south of Point Dume are favorites for surfing, sunbath, diving, and tide pooling. Some are designated as state beaches but are operated by Los Angeles County Department of Beaches & Harbors. Access to a few beaches in this area has been a point of contention between property owners and the public. Much has been published recently to clarify the public's right to access these beaches.
Point Dume Beach
Follow Westward Beach Road all the way to the end to find Point Dume Beach. Although the area is designated as a California State Beach, operation of the beach is handled by Los Angeles County. The beach is most popular for surfing, swimming, diving, and fishing. Lifeguards are on duty during daylight hours.
You can park along Westward Beach Road for free and walk into the park, or use the parking lot for a fee. Alcohol and dogs are not allowed on the beach. Trails lead to the top of the point where you gain spectacular views of the ocean and beaches. Rock climbers test themselves on the cliffs.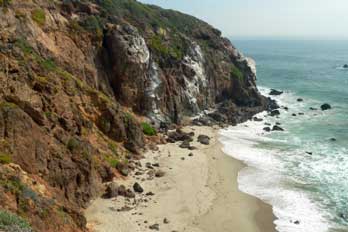 Paradise Cove Beach
Paradise Cove, a private beach on the east side of Point Dume, is open every day from sunrise to sunset. Their Paradise Cove Beach Cafe is located right on the beach.
Parking Fees
Cafe Parking (up to 4 hours with validation): $6 weekdays, $8 weekends or holidays
Cafe Parking (over 4 hours): $35, $50
Beach Parking: $35, $50
Walk-in per person: $20
The Paradise Cove pier offers great views all the way to Palos Verdes. Paradise Cove has restrooms, lifeguards, tide pools, and caves. They rent beach huts, beach beds with umbrellas, lounge chairs, and even private cabanas.
Dogs, surfboards, beach launching, and barbeques are not allowed at Paradise Cove Beach.
Contact
28128 Pacific Coast Highway, Malibu, CA
(310) 457-2503 Paradise Cove Beach
Nearby Restaurants and Supplies
The Sunset Restaurant,6800 Westward Beach Road
Geoffrey's Malibu restaurant, 27400 Pacific Coast Highway
Malibu Seafood, 25653 Pacific Coast Highway<
Starbucks: Point Dume Plaza, 29211 Heather Cliff Road, off Pacific Coast Highway at Trancas Canyon Road
Lily's Cafe &amp Pastries: near Starbucks
Coral Beach Cantina: 29350 Pacific Coast Highway
Malibu Ranch Market: 29575 Pacific Coast Highway
Escondido Beach
This small beach is located off the Pacific Coast Highway near Geoffrey's Malibu Restaurant. The beach is most popular with kayakers who use it as a launching point. Because the beach is so narrow, high tide pushes the waves almost to the houses. As long as you stay below the average high tide line, you are on public beach. There are no facilities at the beach.
Access the beach through a public access gate at Escondido Creek or take the steps near Geoffrey's Restaurant. Parking is limited. Check signs to find legal parking spaces on the roadside.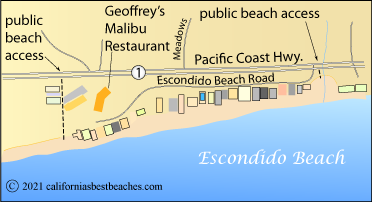 Dan Blocker County Beach
Less than a mile long, Dan Blocker County Beach offers a quiet place to enjoy the ocean away from the tumult of the bigger, more popular Malibu beaches. The beach was formerly known as Corral State Beach. Located at 26000 Pacific Coast Highway, it is 5 miles east of Zuma Beach and 4 miles west of the Malibu Pier.
Swimming, surfing, and diving are the most popular activities there. The somewhat rocky beach deters a few, but most consider it one of the prettiest locations along the Malibu coast. At low tide, the tide pools reveal some of their secrets to visitors.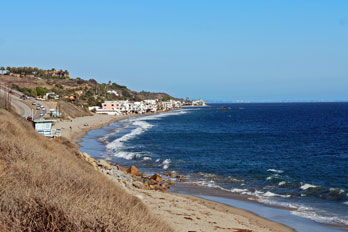 There are 2 lifeguards at peak season times, along with portable toilets and outdoor showers by the lifeguard stands. Parking is limited along the highway. Access is by undeveloped trails.
Beach lovers have urged the county to develop the park with more facilities, but progress has been slow. Los Angeles County hopes to purchase adjacent land for a parking lot, public restrooms, a picnic area, and an accessible ramp to the beach. These improvements are scheduled to be completed in September 2014.
Ocean Safety
California State Parks and Recreation cautions that "large surf, cold water temperatures, backwash, sudden drop-offs, pounding shorebreak, and dangerous rip currents can turn what seem like safe activities such as playing near the surf line, wading, or climbing on rock outcroppings, deadly." Learn more about ocean safety at CA State Parks: Ocean Safety
Search This Site