Fort Ross Activities
Activities at Fort Ross State Park for the most part center around the history of the region, including the Russian stockade, the adjoining buildings, the orchard and windmill, and the cemetery. Other activities are focused more on the ocean. These activities include diving and fishing.
Visiting Fort Ross
The Russian established Fort Ross as a trading and supply outpost beginning in 1812 and operated and expanded the settlement through most of the first half of the 19th century. Among the key buildings worth visiting are the chapel, the stockade, two corner blockhouses, a cluster of four buildings known as the Kuskov House, and the Officials Barracks. At noon and at 2:00 PM on weekends the park staff provides free, half-hour, historic talks in the compound.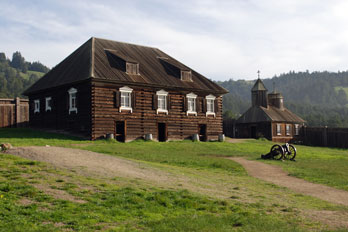 Most visitors must park in the parking lot near the Visitor Center, but drivers may drop off passengers closer to the fort compound before returning to park. Those with handicapped placards may park near the fort.
Picnic tables are located near the parking lot, also at the Call House in the orchard, at Sandy Cove, and inside the fort compound.
Visitor Center
The Visitor Center serves as a focal point for park activities. Within the center is a museum with exhibits covering the various eras of the park's history. Also on display are artifacts recovered from the Russian cemetery.
The Fort Ross Conservancy Bookshop is located in the Visitor Center. They sell children's items related to Fort Ross, memorabilia, jewelry, and books. They do carry pre-packaged snacks and bottled water, along with some Russian snack foods and chocolate.

Hiking
Pedestrian trails lead to Sandy Cove from the stockade, from the cemetery, and from the Reef Campgound. Other trails take hikers out along the bluffs overlooking the northern part of the park. Hikers should not approach the edge of cliffs, which might crumble unexpectedly.
Fort Ross Conservancy Events
The Fort Ross Conservancy works with the state park in preservation, restoration, and research projects at Fort Ross. They offer a variety of interpretive and educational activities. A sample of the events held in 2016 are listed here. For the most current information visit the Events page on their website.
Interpretive Hikes at Fort Ross and nearby Salt Point
Spring Celebration, April 22, 2017
Alaska Native Day, May 20, 2017
Fort Ross Festival, July 29, 2017
Harvest Festival, October 14, 2017