Sites around Fort Ross
San Andreas Fault
The San Andreas Fault runs beneath Fort Ross State Historic Park. When the 1906 earthquake struck the land at Fort Ross shifted more than 12 feet. Many of the old Russian buildings at Fort Ross were damaged. The results of the land shift can be seen at various places around the park. On Fort Ross Road a red marker indicates the place where the fault line crosses the road. The fault line itself is visible there. Other signs of the quake are sag ponds and damaged redwood tree-tops.
Historic Orchard
The old, Russian orchard is located ¾- mile up Fort Ross Road. At one time the Russians had planted as many as 260 trees. Later ranchers expanded the orchard. Among the trees were peaches, apples, cherries, and pears. Today volunteers help to maintain the orchard. It is open to the public during daylight hours.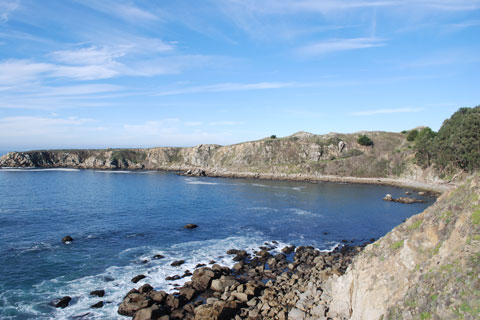 Fort Ross Cove
Fort Ross Underwater Park
The Underwater Park at Fort Ross extends around the Northwest Cape to Clam Beach and around the southern headland into the next cove. According to the State of California, the "underwater parks offer scenic diving and related activities, such as underwater photography and spear fishing. The parks are designed for divers and non-divers, with interpretation for both in visitor centers, kiosks and exhibit boards. In California, divers can dive anyplace you have legal access to the water."
S.S. Pomona Shipwreck
The steamship Pomona was a single-screw, steel-hulled passenger and freighter that ran between San Francisco and Vancouver. In 1908 during heavy seas the ship struck Monterey Rock and was so severely damaged that her captain attempted to ground the vessel at Fort Ross Cove. There the freighter struck rocks and was stranded. Much was salvaged from the ship before the wreckage was dynamited to remove it as a hazard.
SCUBA divers rediscovered the wreck in the late 1950s. The remains of the Pomona lie in waters from 27 to 40 feet deep, where divers can easily explore them.