William R. Hearst Memorial
State Beach
Protected from heavy surf by San Simeon Point, Hearst Beach is a popular destination for swimming, playing in the surf, and enjoying the warm sand. An 850-foot long pier attracts anglers, boaters, and sight-seers. The state beach extends south from the pier along the shore of San Simeon Bay for about a half mile.
The area was once William Hearst's private beach, and was donated to the county for a park in the 1950s. In 1970 became a state beach, and today it is part of San Simeon State Park.
Located directly across from the entrance to the Hearst Castle, the beach attracts a good number of tourists looking for a scenic place to relax and take a walk. Groves of eucalyptus trees stand along the shore and the Hearst Castle can be seen in the distance.
Into the Surf
The light waves make Hearst Beach a good place for beginning surfers, boogie boarders, and skim boarders. Sea kayaks are often launched here. San Simeon Bay provides a protected expanse of water for paddling.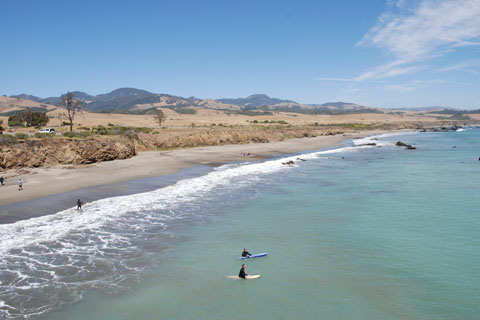 Wildlife
Stray elephant seals beach themselves on Hearst Beach. Signs caution visitors to give them space. Many more elephant seals can be seen 7 miles north at Piedras Blancas Elephant Seal Lookout. Out around the pier expect to see harbor seals and sea lions. Swimming in the cove you will likely spot sea otters and dolphins while farther out a passing gray whale.
Food and Supplies
Supplies are available within walking distance in the nearby community of Old San Simeon. Sebastian's General Store includes a fast food restaurant/deli with great sandwiches and burgers. It can get crowded almost any time of year.