Piedras Blancas Elephant Seals
There are several beaches along the coast immediately south of Point Piedras Blancas where elephant seals congregate.
Two parking lots and several trails allow visitors a chance to observe the elephant seals from a safe distance. Often a Friends of the Elephant Seal volunteer docent will be on hand to answer questions and share information about the seals.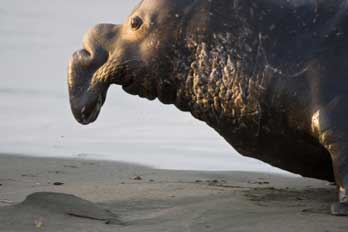 History of Elephant Seals at Piedras Blancas
In 1990 there were less than two dozen elephant seals on the beaches immediately south of Point Piedras Blancas. Amazingly only a year late that number had increased to 400. Within a couple of years more than 50 pups were being born annually at the rookeries. By 1995 the number of births had jumped to 600. Scientists believe that overcrowding at other beaches forced many elephant seals to seek out new rookeries.
A year later the number doubled and the beaches along the coast were crowded with elephant seals. For a time visitors were stopping all along the highway and crowding around the elephant seals. Friends of the Elephant Seal was established in 1997 and since then they have worked to develop safe viewing and parking areas and to educate the public about the seals and other wildlife in the area.
Best Months for Viewing Elephant Seals
The elephant seals generally make two visits each year to the rookery beaches.
March - The last of the males leave the beach while weaned pups are teaching themselves how to swim.
April - August - Elephant seals return to the beach to molt, beginning with females and juveniles.
September - mid-December - Seals arrive, beginning with juveniles and younger adults, and finally bulls and females in late November and early December.
Mid-December - February Most births occur.
February - Births continue, making peaks around mid-February.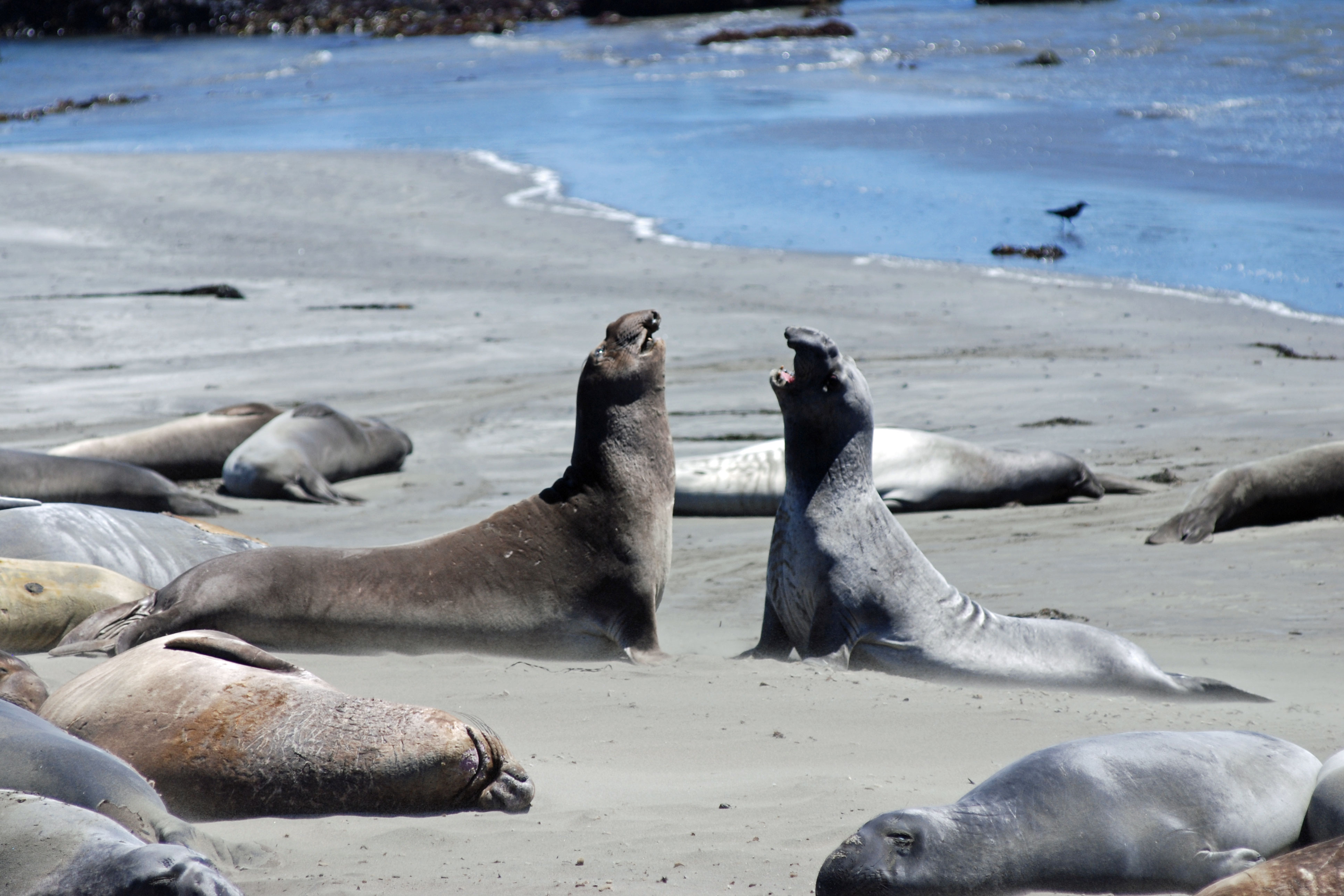 Piedras Blancas Lighthouse
A short distance north of the elephant seal rookeries is Piedras Blancas Lighthouse. The 100-foot tall structure was completed in 1875 to serve as a beacon for coastal shipping. A year later a two-story, 12-room Victorian house was erected next to the lighthouse to serve as a residence for the three keepers and their families. In 1960 the Victorian was demolished and four ranch style homes were built as replacements. The lighthouse is still in operation today.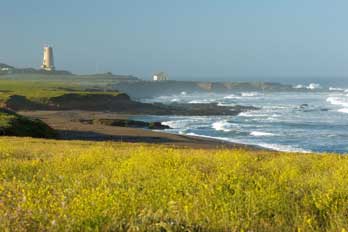 Guided Tours
Guided tours are the only way to visit the lighthouse. They are offered year-round. September 1 through June 14 on Tuesdays, Thursdays, and Saturdays at 10:00 AM. During the rest of the year tours are only held on Mondays.
Tours last 2 hours and feature the lighthouse, the support buildings, wildlife, plants and coastal scenery. Tours meet at the former Piedras Blancas Motel, 1.5 miles north of the light station. Arrive there by 9:45 AM. No reservations required for groups less than 10.
Fees: Adults $10, ages 6-17 $5, children 5 and under free.
Piedras Blancas Lighthouse tours