Nearby Activities and Events
US Navy SEABEE Museum
1001 Addor Street
Port Hueneme, CA
Open Monday - Saturday,
9:00 AM - 4:00 PM
Sunday 12 Noon to 4:00 PM
Admission and parking are free
Exhibits about the history of the SEABEES
(805) 982-5167
US Navy SEABEE Museum
Oceanview Pavilion Programs
575 E. Surfside Drive
Port Hueneme, CA
Old Time Country Bluegrass, Gospel Music Assoc., first Sunday of each month, 2PM-4PM, free
Visit website for schedule of events
Oceanview Pavilion
Sky High Sports
166 Aviador St., Camarillo, CA
The Trampoline Place
All trampoline floors and walls, a great place for fun.
Sky High Sports
Ventura Marathon
Ventura Pier, Ventura, CA
October TBA, 2018
Marathon, half marathon, 5K and beach party
Marathon starts and finishes at Ventura Pier
Ventura Marathon
Ventura Beach Party
Ventura Promenade
Ventura, CA
October TBA, 2018
Part of the Ventura Marathon celebration
Music, kids' activities, arts and crafts, beach games, beer and food
Adult tournaments in volleyball, sand soccer, frisbee, horseshoes
Saturday 10 AM - 5 PM
Sunday 10 AM - 4 PM
Ventura Beach Party
Ventura County Fair
August TBA, 2018
Ventura County Fairgrounds
Ventura Events Calendar
Lake Casitas
Highway 101 to Highway 33
26 miles north of Port Hueneme
Boating, fishing, camping
Lake Casitas
Happening on Hueneme Beach
Surfing and Kitesurfing
Hueneme Beach is popular with the locals who enjoy the consistent beach and jetty break year-round. Offshore winds from the east help form good waves. Most consider the swells from the west northwest to create the best conditions. Rip tides and pollution are both concerns to anyone going in the water. Kitesurfers like to steady winds and the broad beach which makes setting up and launching convenient.
Caution: Check with rangers or lifeguards that conditions are safe for your planned activities.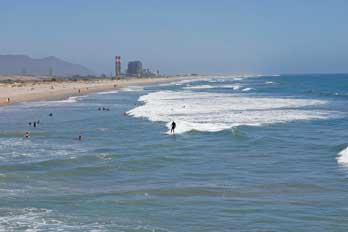 Port Hueneme Pier
The Port Hueneme Pier began in 1956 as a 650-foot wharf, but expansion of the beach area left the pier high and dry. In 1968 the City of Port Hueneme removed some of the original pier and added a new section, extending it to its present 1,250 foot length. Over the years storm damage has changed the configuration of the pier slightly.
The pier is most popular with anglers, but walkers and sight-seers enjoy the stroll out to the end and back. It is one of the few piers that allows cyclers to ride out their lengths.
At the end of the pier you are standing over about 20 feet of water and a sandy bottom. Fishing is good for surfperch, blackperch, halibut, queenfish, white croaker, guitarfish, and thornbacks.
The pier is open 24 hours a day. Facilities include restrooms, fish cleaning stations, lights, and benches. Bait and tackle can be purchased from the Surfside Seafood Restaurant.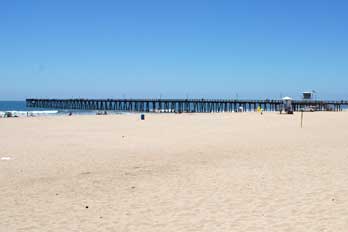 Copa Cabana Beach Soccer Tournament
April 21 - 22, 2018
The 2nd annual Beach Soccer Tournament will be held at Hueneme Beach Park on April 21 - 22, 2018. The tournament is open to youths and adults and features a variety of divisions. The cost per team is about $275 with at least three games guaranteed for each team.
Enjoy food at a Brazilian style barbeques, games and entertainment.
Copa Cabana Beach Soccer
Port Hueneme Junior Lifeguards
The Ventura Junior Lifeguards program is open to children and youth ages 9 through 16. Participants learn water safety, physical conditioning, and understanding and respect for the environment, and respect for themselves and others
Activities include open water swimming, paddle boarding, body surfing, surfboarding, skin diving, CPR, and self rescue. An optional field trip to Santa Rosa Island is included for an extra fee.
Prospective participants must pass a swimming tryout in order to qualify for the program. Tryouts are held usually held in early June at Hueneme Beach.
In past years, two sessions were offered, one beginning in mid-June and and the other in mid-July. Each session is 4 weeks long and runs from 9:30 AM to 2:00 PM, unless there is a field trip. Check their website for 2018 dates.
Port Hueneme Junior Lifeguards
Point Hueneme Lighthouse
Point Hueneme Lighthouse stands at the entrance to Port Hueneme, only a short walk for Hueneme Beach.
On the 3rd Saturday of each month (February through October), the United State Coast Guard Aids to Navigation Team Los Angeles and the Coast Guard Auxiliary join to open Point Hueneme Lighthouse to visitors. It is open from 10:00 AM to 3:00 PM. Admission is free. Reach the lighthouse by walking from Hueneme Beach ½ mile along the promenade to the lighthouse gate.
Ocean Safety
California State Parks and Recreation cautions that "large surf, cold water temperatures, backwash, sudden drop-offs, pounding shorebreak, and dangerous rip currents can turn what seem like safe activities such as playing near the surf line, wading, or climbing on rock outcroppings, deadly." Learn more about ocean safety at CA State Parks: Ocean Safety