Hueneme Beach Park
Location
West of Highway 1
Port Hueneme, CA
(805) 986 - 6500
Admission
Free
Parking: $2 per hour or
$8 per day
Park Hours: 6:00 AM to
10:00 PM
Pier open 24 hours a day
Main Attractions
Swimming, surfing
Picnicking
Port Hueneme Pier
Facilities and Features
Parking, restrooms
Flight 261 Memorial
Picnic area
Sand volleyball courts
Snack bar
Port Hueneme Pier
Promenade to Point Hueneme Lighthouse
Accessibility
Parking, restrooms
Promenade
Hazards
Special Regulations
Dogs on leash in park but not on beach.
No alcoholic beverages
No overhead casting from pier
No diving or jumping from pier
No swimming, surfing, etc. within 100 feet of pier
Fires only in designated areas
Nearby Beaches
San Buenaventura Beach, 11 miles north
Mandalay Beach, 5 miles north
Ormond Beach, 1 mile south
Books of
Local Interest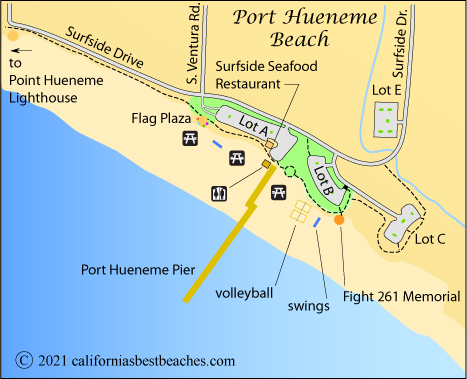 Hueneme Beach Park
Hueneme Beach Park is found just south of the harbor in Point Hueneme, immediately south of Oxnard. This delightful beach is a favorite spot of local residents to relax on summer days. The beach usually offers moderate surf for those who like to swim or play in the waves, but at times the surf can be rough. Lifeguards are on duty during summer months.
The Port Hueneme Pier extends 1,240 feet into the ocean from the beach and is open 24 hours a day. With lights and fish cleaning stations, the pier is popular with anglers.
Parking at the Beach
Three public parking lots are located within Hueneme Beach Park and another is within easy walking distance off Surfside Drive. More parking is available along Surfside Drive where it fronts the beach. Parking is $2 per hour or $8 for an all-day permit. Permits are purchased from vending machines located along Surfside Drive and in the parking lots.
Annual Parking Permits
Annual permits are sold at city hall. City residents pay $50 for their first car and $25 for additional vehicles. Non-resident prices are $100 and $50. The permits run from July 1 to June 30. Prices are reduced by increments if permits are purchased later in the season,
Hueneme Beach Annual Parking Permits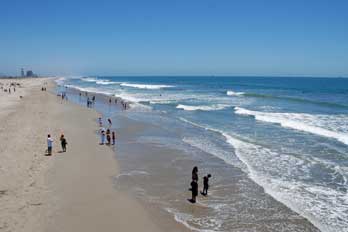 Hueneme Beach Lifeguards
Lifeguard stations are staffed on weekends beginning with Memorial Day weekend and continuing through mid-June. At that time lifeguards are on duty every day through Labor Day from 11:00 AM to 6:00 PM. Swimmers are advised to stay near the blue lifeguard stations and to always swim with a buddy.
Lifeguards display colored flags to indicate ocean conditions.

Green flags mean that conditions are safe for swimming.
Yellow flags indicate that swimmers should check with the lifeguard and use caution in the water.
Red flags indicate that swimming is not allowed.
A white flag with a black ball in the center means that no swimming, surfing, or boogie boarding are allowed.
Hueneme Beach Park Facilities
Park facilities include restrooms, picnic tables, BBQs, expanses of grass, swings, and the Surfside Seafood Restaurant. There are also two beach volleyball courts and a memorial sundial in remembrance of Alaska Airlines Flight 261 that crashed offshore in 2000.
Nearby is Point Hueneme Lighthouse operated by the US Coast Guard. A wide promenade runs from Surfside Drive out to the harbor entry and the lighthouse.
Surfside Seafood Restaurant
The Surfside Seafood Restaurant is located next to parking lot A and the pier at Hueneme Beach. They offer both indoor and shaded outdoor seating for breakfast, lunch, and dinner. The restaurant specializes in seafood but they also serve burgers, chicken, fish and chips, and salads. They are open every day from 9:00 AM to 8:00 PM.
Surfside Seafood also has ice cream, candy, beach products, and bait and tackle. Drop by one Wednesdays for dinner specials and live entertainment.
(805) 488-9533
Flight 261 Memorial Sundial
The memorial sundial at Hueneme Beach commemorates the loss of 88 passengers and crew who died when Alaska Airlines Flight 261 crashed offshore on January 31, 2000. The sundial was designed by local sculptor James Bottoms. It features bronze dolphins and a gnomon that casts a shadow on the 20-foot diameter dial face. Each of the victims of the crash is remembered by individual bronze plates mounted on the perimeter of the sundial.
Visitors to Hueneme Beach can find the dial near parking lot B.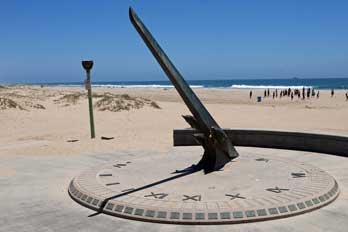 Ocean Safety
California State Parks and Recreation cautions that "large surf, cold water temperatures, backwash, sudden drop-offs, pounding shorebreak, and dangerous rip currents can turn what seem like safe activities such as playing near the surf line, wading, or climbing on rock outcroppings, deadly." Learn more about ocean safety at CA State Parks: Ocean Safety
Search This Site