Mission Beach
and
Pacific Beach
Mission and Pacific beaches spread along Pacific Ocean side of the Golden Strand at Mission Bay and extend north to Tourmaline Street. The 3.4-mile ribbon of sand is a favorite beach destinations for San Diego residents and visitors alike.
Mission Beach, around the intersection of Mission Boulevard and West Mission Bay Drive, is the heart of beach activity. Visitors flock to the rides at oceanfront Belmont Park, while others enjoy the flow of crowds along Ocean Front Walk.
Those seeking somewhat quieter stretches of sand head north to adjoining Pacific Beach or south to South Mission Beach. Crystal Pier at Pacific Beach is both a public pier and hotel. North of the pier visitors find quiet areas great for relaxing. South Mission Beach is best known for its volleyball courts and for fishing off the breakwater.
Many beach visitors plan their arrival for early morning low tides and enjoy walking along the edge of the water, watching for shells.
Tourmaline Surfing Park
Tourmaline Surfing Park, north of Pacific Beach, draws surfers and sailboarders throughout the year. The beach is accessed off La Jolla Boulevard. Facilities there include a parking lot, restrooms, showers, and fire pits. High cliffs guard the beach, providing a feeling of seclusion.
Lifeguards are on duty. Portions of the beach are set aside for surfing and for swimming.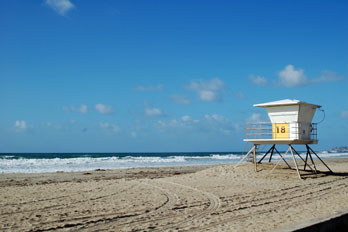 Mission Beach
Ocean Front Walk
Three-mile long Ocean Front Walk is a paved promenade than extends along the edge of the beach. It's a favorite place for people to walk and socialize, to view the ocean-front homes, or to stop for refreshments at one of the local eateries. With its gathering of eccentric characters, the Walk is often compared the promenade at Los Angeles' Venice Beach. An 8 mile per hour speed limit keeps the flow of traffic at a gentle pace. The Walk begins at the south end of the strand and carries north to the foot of Law Street in Pacific Beach.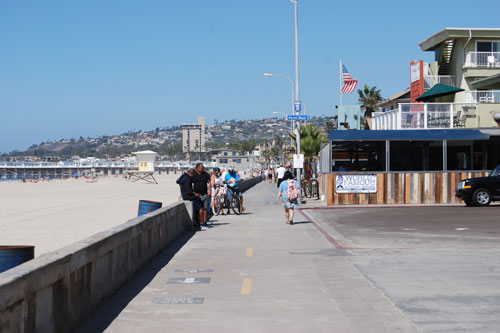 Ocean Front Walk
Belmont Park
One of the big attractions at Mission Beach is Belmont Park with its collection of amusement park rides, arcades, and restaurants. Popular rides include the Giant Dipper Roller Coaster, the Liberty Carousel, Beach Blaster, and Krazy Kars. In the Wave House are simulated wave machines. FlowRider is geared toward beginning surfers, while FlowBarrel is a ten-foot wave machine that challenges even experts.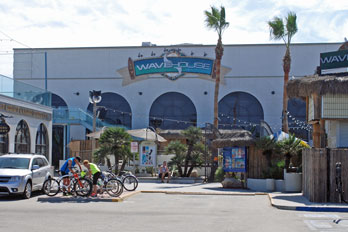 Wave House
Bird Rock
Bird Rock is a favorite destination for surfers and tide pool adventurers. It is located north of Pacific Beach in southern La Jolla. Visitors can reach the area by descending a stairway at the foot of Bird Rock Avenue off La Jolla Boulevard. About 50 yards from shore, Bird Rock is covered by high tides. The entire area is characterized by rock slabs with numerous crevices for marine creatures to reside. There are no facilities or lifeguards at Bird Rock. Surfers gather at a break southwest of the rock.
Parking around Mission Beach and
Pacific Beach
Because of the paucity of parking spaces along this popular stretch of beach, many visitors turn to public transportation or bicycles to reach their favorite spots along the Strand. Parking is at a premium along residential streets. Check street signs to be sure you have found a legal spot. Better chances for parking are found at the free public lots around South Mission Beach Park, Bonita Cove Park, out on Santa Clara Point, and around Belmont Park.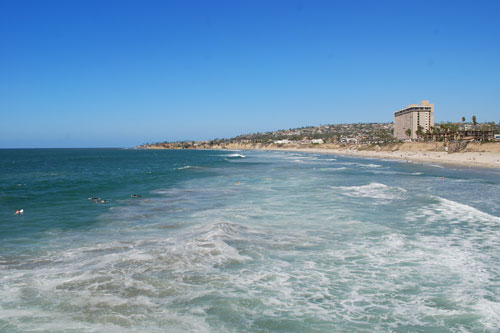 Pacific Beach north of Crystal Pier
Metropolitan Transit System Bus Routes to Mission Beach
MTS Route 8 buses run from the Old Town Transit Center West out to Mission Beach and Pacific Beach at regular hours both weekdays and weekends.
Metropolitan Transit System Bus Routes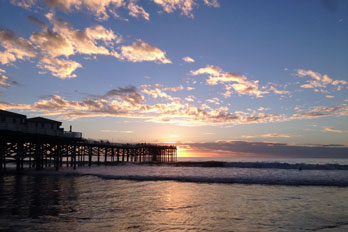 Crystal Pier
Crystal Pier
Crystal Pier juts out into the ocean at the foot of Garnet Avenue in Pacific Beach. The 872-foot long wooden structure is open to the public during daylight hours. Fishing is a popular activity there. Closer to the shore on the pier are rows of cottages which may be rented.
Crystal Pier Hotel
Golden Strand Restaurants
Mission Beach Vicinity
Kojack's Restaurant 714 Ventura Place
Luigi's at the Beach 3210 Mission Boulevard
Five Star Grill 3136 Mission Boulevard
The Boardwalk 3704 Mission Boulevard
Pacific Beach Vicinity
Baja Beach Cafe 701 Thomas Avenue
Joe's Crab Shack 4325 Ocean Boulevard
Taco Surf PB 4657 Mission Boulevard
Pacific Beach Alehouse 721 Grand Avenue