Oceanside Beach Surfing
Surfers find good surfing at a number of spots along Oceanside's 3½ miles of beach. One of the most popular spots is at Harbor Beach where the jetties produce a reliable break. Another great location is on either side of the pier (being mindful of the 100-foot no watersports zone on either side of the pier). It's an area that can get crowded in the summer.
Generally swells from the west-southwest and the northwest produce some of the best waves.
Caution: Check with rangers or lifeguards that conditions are safe for your planned activities.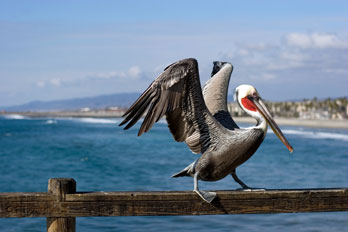 Surfing Competitions at Oceanside Beach
Surfing Lessons and Camps
SoCal Surf School
Surf camps for beginners as young as 6 up through more experienced surfers. SoCal Surf School offers mini-camps, drop-in camps, and the traditional week-long camps, as well as private lessons. Camps begin in early June and extend through August. Meet at Harbor Beach. Instructors are CPR/First Aid Certified.
SoCal Surf School
Surf Ride Surf Camps
A weekly surf camp for ages 7 and older. Surf Camp helps children develop self-confidence, a respect for the ocean, and to interact with other campers and instructors, while improving their surfing skills. Children learn basic surfing skills, safety, and information about sea life. All of their instructors are CPR certified. Camp meets at the North Jetty at Harbor Beach. The first session begins in late June and the last ends in mid-August.
Surf Ride Surf Camps
Surfin Fire Surf Camps
Surfin Fire is located at the foot of the Oceanside Pier. They offer daily drop-in surf lessons for all ages. They have both private and group lessons, daily surf clinics and surf camps. Their surf camp teaches beach safety, ocean awareness, and the fundamentals of surfing. Week-long camps begin in early June and continue through August. They maintain a 4 to 1 student to instructor ratio.
Surfin Fire Surf Camps
Surfboard Rentals
Surf Ride Rentals
Surfboards, bodyboards, swim fins, and wetsuits, and stand-up paddleboards.
1909 South Coast Highway, Oceanside, CA
Surf Ride Rentals
Asylum Surf
Surfboard, bodyboard, wetsuit, and swim fin rentals.
310 Mission Ave., Oceanside, CA
Asylum Surf Rentals
UP Sports
Rentals of kayaks, stand-up paddleboards, surfboards, body and skim boards, wetsuits
UP Sports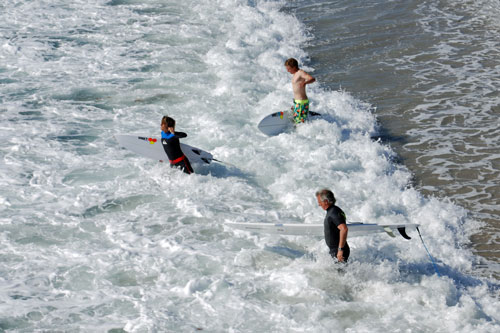 Oceanside Pier Attractions
Visitors to Oceanside enjoy strolling out the 1,942-foot long pier for vistas of the surrounding area and a great vantage point to watch the nearby surfers. Nearby wildlife is often spotted from the pier. In the ocean watch for whales, dolphins, seals, and rays. Gulls and pelicans are often perched along the rails. Coin-operated binoculars are available for use. Benches, lights, and fish cleaning stations are also found along the pier.
Halfway out the pier are restrooms and a bait and tackle shop which sells and rents fishing supplies as well as selling snacks and beverages. At the end of the pier is Ruby's Diner, a 1950s style restaurant. The pier is open 24 hours a day.
Fishing on the Pier
Anglers do well all along the pier, landing a variety of fish. Among the catches are California halibut, mackerel, jacksmelt, white croaker, surfperch, guitarfish, corbina, and barracuda. Popular baits are anchovies, bloodworms, cut mackerel, and ghost shrimp. A separate, smaller Fishing Pier is located in the harbor.
Movies on the Pier
During the summer free movies are shown from time to time at the Junior Seau Pier Amphitheater from 8:00 PM to 11:00 PM.
Junior Seau Beach Community Center
Junior Seau Beach Community Center is located below the pier. The facility includes a gym, meeting room, kitchen and stage. A variety of activities and events are held here every year ranging from basketball and volleyball to day camps and teen programs. Also found at the community center is the City of Oceanside Sports Office which coordinates by youth and adult community sports events and programs.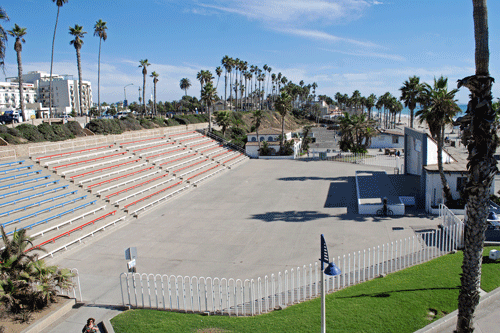 Oceanside Beach Soccer
May 20-21, 2017 The Beach Soccer Championships to be held at Oceanside's Harbor Beach. The competition will include youth, adult, and professional teams. Beach soccer teams are composed of 5 players.
The tournament is sponsored by Life Thru Sports
Oceanside Parks & Recreation Department Summer Camps
Every year Oceanside's Parks & Recreation Department sponsors a variety of summer camps for local children. Beach related camps include Habitats of the Sea, Surf Camp, drop-in Surf Camp, Co-ed Beach Volleyball, and others.
For all Parks & Recreation Activities, see Recreation Activity Guide
Oceanside Junior Lifeguards - 2017
The Oceanside Junior Lifeguard Program develops ocean and beach safety, lifesaving skills, and physical fitness. Participants enjoy beach games, surfing, and competitions, along with field trips to Knotts Soak City and La Jolla Cove (if conditions are safe). The program includes instruction in rescue techniques, marine biology and first aid.
Oceanside Junior Lifeguards is open to individuals ages 9 to 17. First-time participants must complete a swim test, offered at various dates in May, June, and early July at the Brooks Street Swim Center. The Junior Lifeguard Program has four sessions in 2017.
Session 1: June 19 - July 14 2017 - Monday, Wednesday and Friday, 9 AM - 2 PM
Session 2: June 20 - July 13, 2017 - Tuesday and Thursday, 9 AM - 3 PM
Session 3: July 17 - August 11, 2017 - Monday, Wednesday and Friday, 9 AM - 2 PM
Session 4: July 18 - August 10, 2017 - Tuesday and Thursday, 9 AM - 3 PM (includes 2 Mondays, July 31 and August 7)
Junior Lifeguards meet at Oceanside Harbor Beach.
Oceanside Junior Lifeguard Program
Cycling along The Strand
Cyclers enjoy rolling along The Strand, taking in the sights of the beaches and exploring north into the harbor.
Bicycle Rentals
Fun Wheel Rentals, 300 North The Strand, Oceanside, CA
rentals of all kinds of cycles from beach cruisers to tandems, surreys to kids' bikes. Open every day from 9 AM to sunset.