Linda Mar Beach
Call it Linda Mar or call it Pacifica State Beach, it is still the most popular beach in Pacifica. Convenience and good surfing account for most of its popularity. Located adjacent to Highway 1, the beach is easy to find. A coastal trail stretches along the beachfront, providing access from one end to the other.
Restrooms and outdoor showers are centrally located. One attraction noted by most visitors is the Taco Bell restaurant located right there in the parking lot. Beach-goers find it handy to stroll up to the take-out window, order food, and then carry it back onto the beach. Across Highway 1 are Donut Time, Starbucks, Cold Stone Creamery, and several other eateries.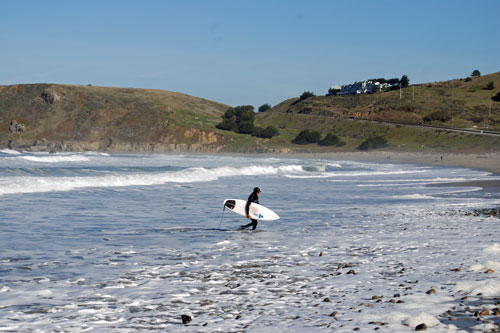 Rockaway Beach
Rockaway Beach has the feel of a secluded little coastal community, far from any major city, when in fact San Francisco is only a few miles to the north. The narrow beach is anchored by high bluffs at either end. Rock embankments have been set in place along the shoreline to prevent further erosion.
When the surf is up it can be busy with surfers and spectators, but often the beach is far less crowded than its neighbor to the south. With a steep drop-off, the water can be dangerous for wading or swimming. It's a great place to pick up a cup of coffee and a snack in town at Pacific Java Cafe and relax on the beach. Parking lots are located at either end of the beach. Restrooms with showers are at the southern parking lot. Dogs on leash are allowed on the beach.
Coastal Trail
The Coastal Trail connects Rockaway Beach with Linda Mar Beach a mile to the south. The switchbacks south of Rockaway beach lead to a bluff with great views of the area. The trail north extends to Sharp Park.