Sharp Park Municipal Pier
The 1,140-foot long, L-shaped municipal pier at Sharp Park in Pacifica is one of the most popular fishing locations along the coast. Built in 1973, the concrete pier has stood up against decades of heavy, pounding surf. Although it occasionally must be closed due to the surf, it is usually open from early morning until late at night, allowing anglers plenty of access.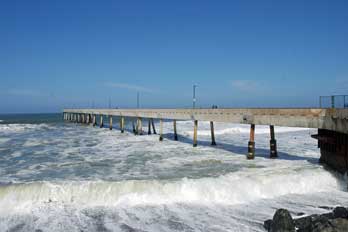 Summer fishing is advertised as the best season, but experienced anglers have found success in the winter when the pier is almost deserted. Fishermen pull in salmon and striped bass, along with a variety of other ocean species such as surfperch and jacksmelt. No fishing license is required to fish from the pier. The pier can become crowded during the recreational Dungeness Crab season which usually begins the first Saturday of November.
Pacifica's municipal pier is equipped with lights, restrooms, benches, fish cleaning stations, and the Chit Chat Cafe at the Pier (a coffee house/snack bar) at the entrance.
Pier Rules
City regulations do not allow alcohol, smoking, dogs, or glass containers on the pier. Cycling and overhead casting are also prohibited.
Pier Poetry
The Pacifica Pier Poetry Walk was held on April 14, 2012. Participants were asked to write two lines of poetry that represented their feelings about the pier. Awards were presented at the end of the month to winners in various age groups.
Surf Fishing
While the pier is famous for its excellent fishing, those casting into the surf along Sharp Park Beach have had great success too. The area was once known for its striped bass, but the number of catches has fallen off in recent years. Still, fishermen on the beach land good-sized surfperch, including calico surfperch, redtail surfperch, and barred surfperch.
Surfing Sharp Park Beach
Shifting sandbars move the break around. During the winter Sharp Park has the reputation of being fierce. Currents are difficult to deal with. Padding out is hard and returning to the beach is often a challenge. Most surfers find the best waves there in spring or fall.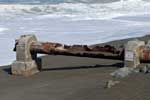 Metal skewers poking out of the sand near the drainage pipe closest to the pier are a particular hazard.