Nearby Activities and Events
Trinidad Fish Festival
Father's Day
Trinidad School, 300 Trinity St., Trinidad, CA
11:00 AM to 5:00 PM
barbecued salmon and other fish
Live music, tide pool walks, tour of Marine Labe, wine, beer and other refreshments
Free tours of the working lighthouse on Trinidad Head are offered once a year to the public during the Trinidad Fish Festival
Trinidad Chamber of Commerce
Trinidad Museum
400 Janis Ct., Trinidad, CA
Open Wed. - Sun., noon to 4 PM
Rotating exhibits such as the history of commercial fishing in the area, local artists, Native American art, history of Trinidad Whaling Station
Includes a native plant garden
Trinidad Museum
Humboldt State University's Marine Laboratory
570 Ewing St., Trinidad, CA
Self-guided tours:
Weekends (during the school year) 10:00 AM to 5:00 PM
Mon.-Fri. (year-round), 9:00 AM to 4:30 PM
Marine Laboratory
Trinidad Art Gallery
490 Trinity Street, Trinidad, CA
Cooperative art gallery featuring local artists
Jewelry, ceramics, stained glass, photography, textiles, and more
Open daily 10 AM to 5 PM
Trinidad Art Gallery
Redwood Trails Private Horse Rides
265 Redwood Trails Circle, Trinidad, CA
Rides depart from the Rodeo Grounds in Orick
1 hour to all-days rides available
Redwood Trails Horse Rides
Trinidad to Clam Beach Run & Walk
January 27, 2018
8.75 miles, 5.75 miles, or 3 miles - choose your race
Roads, hills, and forests
Trinidad to Clam Beach Run & Walk
Books
of Local Interest
Discovering Agate Beach
The trail down to Agate Beach is about ⅓ mile downhill. Once on the beach, visitors are welcome by a long expanse of sand stretching 5 miles north through Big Lagoon County Park Beach and then Humboldt Lagoons State Park. A path along the edge of the beach is part of the California Coastal Trail. The area is a favorite walk for locals and out-of-towners who keep a sharp eye out for agates and other semi-precious stones. A small quantity of them may be gathered and kept.
A sloping cliff rises behind Agate Beach but gradually disappears as beach combers reach Big Lagoon. Restrooms and water are available there at the county park and at Humboldt Lagoons State Park..
While the ocean at Agate Beach is unsafe for wading and swimming, many visitors enjoy setting themselves up on the sand to soak in the sights and sounds of the ocean and breathe in the refreshing salt air.
Surfing at Agate Beach
Surfing at Agate Beach is for the experts. Huge waves, boiling surf, submerged rocks, rip currents, and icy water make it a challenge to even the best surfers. Off Patrick's Point is an exposed reef that produces consistent breaks. Most surfers agree that winter is the best time.
Marine Mammals
The vantage points around Patrick's Point State Park are popular spots for watching the annual whale migration which usually occurs in spring and fall. Gray whales are most commonly seen as they migrate from Alaska to Baja California and back again each season. They usually stay close to shore for protection from predators such as orcas.
Other marine mammals seen around the park are seals and sea lions. They can often be see in numbers relaxing on the sand near Big Lagoon.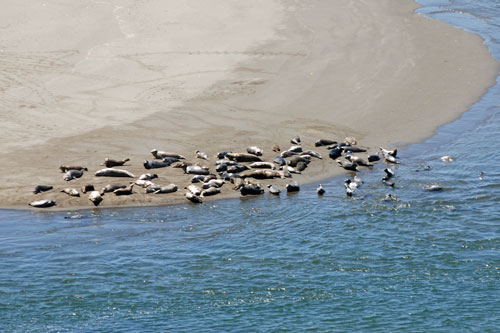 Surfboard, Kayak, and Paddleboard Rentals
Salty's Supply Co.
332 Main St., Trinidad, CA
(707) 677-0300 Sally"s Supply Co.
Sales and Rentals
Surf Rentals: boards, wetsuits, and accessories.
Kayak Rentals: Single and tandem
Bike Rentals, fishing and crabbing rentals
Kayak Zak's
Humboldt Lagoons State Park,
115336 Highway 101, Trinidad, CA
(707) 498-1130 Kayak Zak's
Kayak and Stand up Paddleboard Rentals at Stone Lagoon, Big lagoon County Park, and Trinidad Cove
Kayaks, SUPs, and all the accessories
Guided trips available
Tide Pools at Patrick's Point State Park
Palmer's Point Beach offers the best tide pools in the state park. In fact, the park calls them the richest and most diverse pools in the world. Before heading down to the tide pools, stop by the visitor center and pick up the brochure Get in the Zone! Life in the Intertidal Zones of Patrick's Point State Park.
Caution: Check with rangers or lifeguards that conditions are safe for your planned activities.
Visitors to the pools will have a chance to spot sea urchins, sea stars, purple shore crabs, orange cup coral, limpets, ochre stars,sea clown nudibranch, northern re anemone, and wine plum dorid. Park rangers remind visitors, "Remember, examine, but please do not pick up or disturb these animals!"
Exploring Patrick's Point
Wedding Rock
One of the most popular hiking destinations in the park is Wedding Rock. A short trail from a nearby parking lot leads out to the rock, which stands as a sentinel facing the vast Pacific. Weddings are occasionally held on rock. To hold your wedding there you will need a permit. Call 707-677-3110.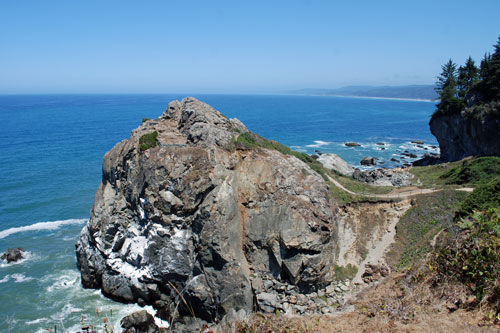 Wedding Rock
Rocky Point and Patrick's Point
Short trails lead to the nearby Patrick's Point and Rocky Point which offer slightly different views of the ocean and coast. Patrick's Point is a great spot from which to view Wedding Rock.
Sumęg Village
Sumęg Village is a recreation of a Yurok seasonal village. Visitors to the plank-house village can tour the sweat house, changing houses, dance house, and family homes. There is also a redwood canoe. The village was planned and built by Yurok people with the assistance of park staff. Local materials were used in the reconstruction. During the summer visitors can watch a traditional ceremony at Sumęg Village or join a hike led by a docent or professional naturalist.
Next to the village is a native plant garden with plants that were used by Native Americans for medicine, basket making, and food.
Hike the California Coastal Trail
Patrick's Point State Park contains a small section of the California Coastal Trail which one day will extend 1,200 miles from San Diego County north to Del Norte County. Currently the project is more than half-way completed. The trail is a network of public trails for use by everyone from walkers to equestrians.
Maps of the sections of the trail which pass through Patrick's Point State Park can be see here:
California Coastal Trail - Patrick's Point and South
California Coastal Trail - Patrick's Point and North
Ocean Safety
California State Parks and Recreation cautions that "large surf, cold water temperatures, backwash, sudden drop-offs, pounding shorebreak, and dangerous rip currents can turn what seem like safe activities such as playing near the surf line, wading, or climbing on rock outcroppings, deadly." Learn more about ocean safety at CA State Parks: Ocean Safety