Nearby Beaches
Patrick's Point
State Park
Location
4150 Patrick's Point Drive
6 miles north of the town of Trinidad
(707) 677-3570
Day-use fees: $8
Park Features
Agate Beach
Spectacular Patrick's Point
Visitor Center
Hiking trails
Tide pools
Recreated Yurok village
Campground Facilities
3 campgrounds: Abalone, Agate, and Penn Creek
123 campsites in all
Penn Creek's 14 campsites are tents-only
2 Group Sites
Hike and Bike Campsites
Restrooms with showers
Dump station
Amphitheater
Accessibility
Several campsites
Parking, restrooms with showers
Visitor Center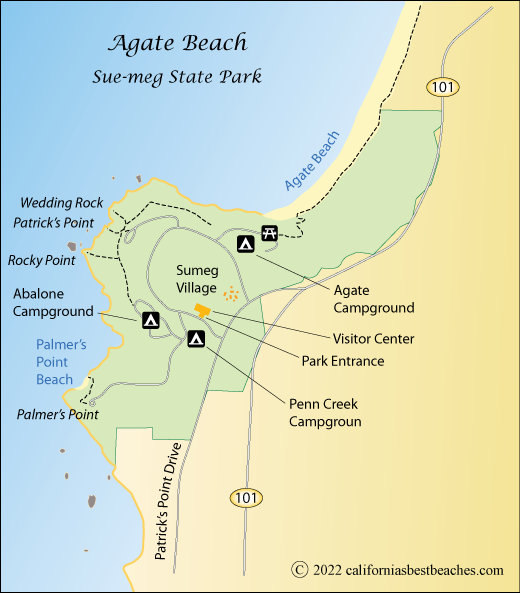 Agate Beach
Agate Beach is one of the key attractions in Patrick's Point State Park. The park is 25 miles north of Eureka along the rugged Humboldt County coast. Patrick's Point juts into the ocean with several great vista points and spectacular scenery. Beautiful Agate Beach spreads just north of the point, accessed by a trail from the the day use area near Agate Campground.
Visitors to the beach come for the scenery, to stroll along the sand, and to search for agates. Semi-precious agates are polished by the motion of sand and water. Agates are usually formed inside cavities caused by bubbles in volcanic rock. As the volcanic rock erodes, agates are released into streams and are eventually washed into the ocean and onto beaches.
Jade and jasper are also sometimes found on the beach. Collecting stones at Agate Beach is allowed, but visitors are limited to one armload per person.
Agate Beach is not recommended for swimming or wading. The ocean is too cold and dangerous. Visitors should be wary of strong undertows and sleeper waves.
Nearby Beaches
Palmer's Point Beach
At the south end of the state park is Palmer's Point Beach, a favorite for those who enjoy exploring tide pools. A parking lot at the end of the road is the trailhead for a steep path with some steps leading down to the beach. Visitors will encounter boulders strewn across the beach, hence its old name of Cannonball Beach.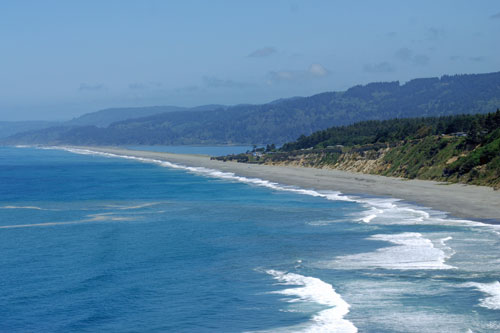 Big Lagoon Beach
Big Lagoon Beach
Agate Beach connects to the north with Big Lagoon County Park Beach. The sand stretches northward forming a spit between Big Lagoon and the Pacific Ocean. The lagoon is popular for smallcraft boating and for fishing. The beach itself is wide and rather unremarkable. Dogs off-leash but under voice control are allowed the county beach. A campground is situated alongside the beach and lagoon. $2 entrance fee per vehicle. Restrooms in the campground.
Patrick's Point State Park
Patrick's Point State Park is only 640 acres, but every corner of the park has something worth exploring. A ragged coastline, meadows, forests, beaches and recreated Yurok village known as Sumeg are among the features which attract so many visitors each year.
Caution: Check with rangers or lifeguards that conditions are safe for your planned activities.
Most of the forests at Patrick's Point are made up of Sitka spruce, red alder, Douglas fir, western hemlock, and pines. In the spring wildflowers burst into bloom along the edges of the meadows. Among the animals that roam through the forests and meadows are black bears, raccoons, and deer.
Ocean Safety
California State Parks and Recreation cautions that "large surf, cold water temperatures, backwash, sudden drop-offs, pounding shorebreak, and dangerous rip currents can turn what seem like safe activities such as playing near the surf line, wading, or climbing on rock outcroppings, deadly." Learn more about ocean safety at CA State Parks: Ocean Safety
Search This Site