Point Reyes' Most Popular Beaches
With 80 miles of coastline, Point Reyes National Seashore has a number of great beaches. Some are accessible by car or with only short walks, while others require some hiking. With cold water, the danger of rogue or sneaker waves, and hazardous rip-currents, the beaches facing the Pacific deserve extra caution. Beaches in Drakes Bay are sheltered by Point Reyes and they are generally safer for swimming. Even so, caution should be taken.
Limantour Beach
Limantour Beach is easily accessed by car. A long, narrow spit of stand stretches out to the mouth of Drakes Estuary. Visitors are rewarded with an abundance of shorebirds and other wildlife. In the spring Gray Whales are often sighted close to shore. Harbor seals are common visitors to the area. Swimming is possible in the chilly water. The beach is favored for picnicking since it is protected from the wind.
Restrooms are available at the beach. Dogs on leash are permitted on the southeast end of the beach. At the other end of the beach the area is protected as a habitat for snowy plover and harbor seals.
Point Reyes Beach - North and South
Also known as The Great Beach, Point Reyes Beach can be accessed by car in two places off Sir Francis Drake Boulevard. The immense beach extends for 11 miles along the Pacific Ocean side of Point Reyes National Seashore. Huge waves crash ashore all along Point Reyes Beach. Rogue waves, or sneaker waves as they are often called, are a particular hazard. Visitors are cautioned to always keep an eye on the ocean and to stay well back from the surf. Swimming and wading are not recommended.
Walking the beach, photography, wildlife viewing, and picnicking are favorite activities on these beaches. Restrooms are available at both the north and the south parking areas. Dogs on leash are permitted on the beach, but not north of the north entrance. During the winter elephant seals come ashore south of the south beach access. At those times people and dogs are restricted from that area.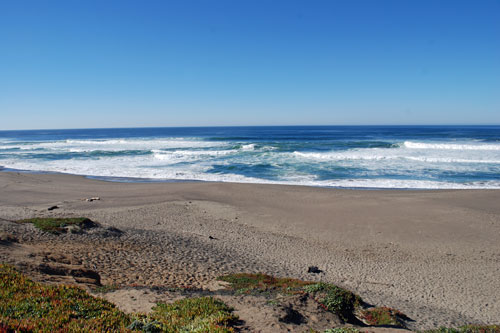 Point Reyes Beach
Drakes Beach
With parking close to the beach and amenities such as a visitor center, a cafe, restrooms, and outdoor showers, Drakes Beach is one of the most popular in the park. Cliffs of white sandstone rise behind the beach. Sand stretches away in either direction from the parking lot. A picnic area makes a good place for an outdoor meal.