Surfing San Elijo,
Cardiff, and Solana Beaches
Surfing at San Elijo State Beach can be good when conditions are right, often in winter, but also in summer. An east-northeast wind coupled with swells from the west-southwest produces some nice beach and reef breaks. A mixed sand and rock bottom creates some hazards. Pipes at the north end of the campground is the main surfing spot.
Caution: Before setting out, always check with rangers that conditions are safe for your planned activitites.
Cardiff
Cardiff also has a mixture of rocks and sand. At low tide the reef can be a hazard. The best surfing tends to be at a medium tide. Most surfers prefer the winter months here. Nearby to the north, Suck Outs' shallow water over the reef and often powerful waves make it a spot for extra caution.
Seaside
Seaside is located at the southern end of Cardiff State Beach. It is known for an exhilarating reef break best suited for intermediate surfers and above. Surfers find a number of peaks, offering a variety of rides. George's is found along the highway where there is free parking. A sandy bottom makes it a favorite with many. Tabletops is a reef break about 100 yards south of Seaside.
Fletcher Cove
Fletcher Cove (also known as Pillbox) in Solana is popular with everyone from beginning surfers to experts. Most often surfers find a sandy bottom with few rocks, but changing conditions can warrant caution. Waves are good through the summer and winter, breaking right and left. Wind from the south can sometimes cause the waves to turn mushy.
Surf Lessons, Camps, and Clubs
Eli Howard Surf School
Surfing lessons and camps for everyone from beginners to advanced. Weekend Escapes, Teen and Adult Overnight Surf Camps, Daily Lessons, Day Surf Camps and more. Located at San Elijo State Beach under a permit with the California State Parks.
Eli Howard Surf School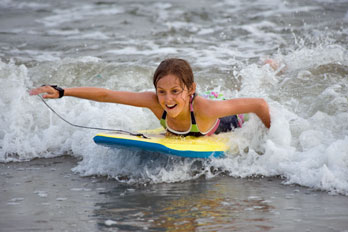 San Elijo Surf Team
The San Elijo Surf Team for middle school students is part of the San Elijo Surf Club. Among their goals are developing surfing fundamentals while learning ocean safety and surfing etiquette. The team practices on Wednesdays and Fridays after school and Sunday mornings at various locations. They participate in various competitions throughout the year.
San Elijo Surf Team
Leucadia Surf School
Two-hour surfing lessons at Moonlight Beach - softboards and wetsuits provided. Private, semi-private, or small group lessons available. Summer Surf Camp for all ages.
Leucadia Surf School
Surfboard and Paddleboard Sales and Rentals
Mitch's Surf Shop
Rentals and sales of boards and wetsuits, also sales of clothing, fins, gear and more.
363 North Highway 101, Solana Beach, CA
Mitch's Surf Shop
Iron Cross Surfboards
Rentals of surfboards, wetsuits, stand-up paddleboards, boogie boards, beach chairs and umbrellas. Sales of surfboards, apparel, and accessories.
2101 San Elijo Avenue, Cardiff by the Sea, CA
Iron Cross Surfboards
Concept Surf Shop
Surfboards, wetsuits, boogie boards, bikes, and beach chair rentals.
215 West D Street, Encinitas, CA
Concept Surf Shop
Progression Surf
Rentals of surfboards (hard and soft), stand-up paddleboards, bodyboards, wetsuits, fins
828 North Coast Highway 101, Leucadia, ca
Progression Surf
Hansen's Surfboards
Demo surfboards, soft surfboards, bodyboards, and wetsuits
1105 S. Coast Hwy. 101, Encinitas, CA
Hansen's Rentals
Paddle Planet
Stand-up paddleboard, kayak, surfboard, and bodyboard rentals.
996 N. Coast Highway 101, Encinitas, CA
Paddle Planet