San Elijo
State Beach
San Elijo State Beach is best known for its campground spread along the bluff overlooking the ocean. The cobble beach attracts surfers, swimmers, snorkelers and divers. Surf fishing is also popular here. To reach the beach, many visitors descend wooden stairways. A campaign by the Friends of Cardiff and Carlsbad State Beaches is underway to repair the stairways. A ramp is also available, making the descent to the beach easier.
A Camp Store is open seasonally from March through October. Some of campsites are closed during the non-peak season.
During low tides visitors can explore tide pools. Caution: Before setting out, always check with rangers that conditions are safe for your planned activitites.
Parking at San Elijo State Beach
A pair of day-use parking lots are located off South Coast Highway 101. Parking is usually $10 per vehicle, but on holiday weekends the price rises to $15. More parking can be found nearby along the highway and farther back along San Elijo Avenue.
Ride the Coaster to the Beach
The Coaster commuter train runs along the Pacific coast in San Diego County, with stops at 8 stations between San Diego and Oceanside. Every weekday more than 20 trains make the scenic journey, with more trains on weekends. The entire Coaster route only takes about an hour.
Station Stops
Santa Fe Depot - San Diego
Old Town - San Diego
Sorrento Valley - San Diego
Solana Beach - 105 North Cedros Ave.
Encinitas - 25 E. D Street
Carlsbad Poinsettia
Carlsbad Village
Oceanside Transit Station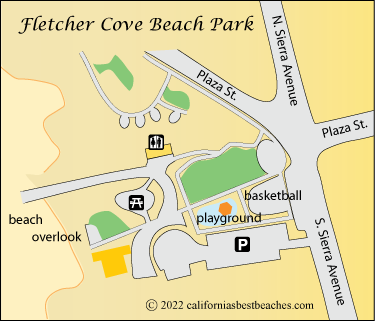 Nearby Beach Access Points
501 S. Sierra Ave. Walkway and stairs to beach with sand volleyball, surfing, swimming
180 Del Mar Shoes Terrace - Walkway and stairs to beach with surfing, fishing, sand volleyball, summer lifeguards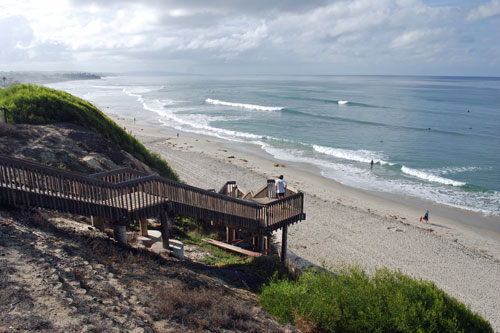 San Elijo State Beach
Nearby Viewpoint
Just south of Fletcher Cove Beach Park - follow trail from Fletcher Cove to viewpoints along the bluff. Benches available.
Nearby Beaches
Cardiff State Beach
Located just south of the mouth of San Elijo Lagoon, Cardiff State Beach offers gently a sloping sandy beach that attracts swimmers, sun bathers, walkers, and surfers. Lifeguards are on duty during peak times. The day-use facilities include two parking lots, restrooms, and outdoor showers. One parking lot is immediately south of the lagoon, while the Seaside Reef Parking Lot is a mile farther south. Like San Elijo, Cardiff State Beach charges $10 per vehicle and raises it to $15 on holiday weekends. Many visitors find parking along the highway.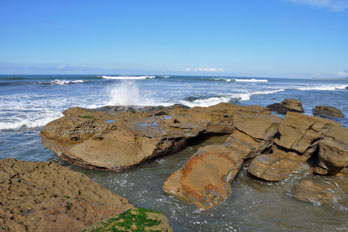 Soft-bottom and carry-on boats can be launched from the north beach launch zone, except during the summer. Swimming is confined to the north beach while surfers have the southern half. Dogs on leash are allowed on the beach. The beach is open from 6 AM to 11 PM, while the parking lot is open from 7 AM to sunset.
Tide Beach Park
A short distance south of Cardiff State Beach is Tide Beach Park, a sandy beach best known for diving, snorkeling, and surf fishing. Access to the beach is via a stairway down the bluff at the foot of Solana Vista Drive at Pacific Avenue. Parking is along residential streets. Seasonal lifeguards are on duty.
Fletcher Cove Beach Park
Fletcher Cove Beach Park is located in Solana Beach. It offers a nice stretch of sand popular for sun bathing, swimming, surfing, and fishing. The park adjacent to the beach has basketball and sand volleyball courts, shuffleboard, picnic areas, showers, and restrooms. Seasonal lifeguards are on duty.
The park can be reached by heading west on Lomas Santa Fe Drive in Solana Beach. At the Coast Highway Lomas Santa Fe turns into Plaza Street and leads directly to the park. The parking lot is open from 6 AM to 10 PM in the summer, 6 PM in the winter. The Coaster commuter train stops on North Cedros Avenue, only blocks from the park.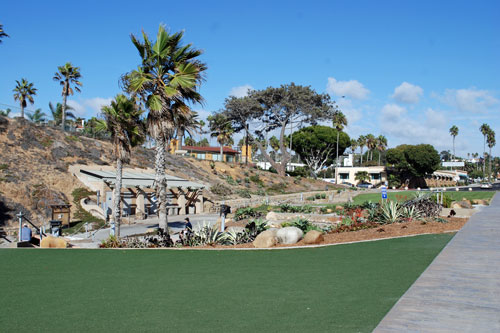 Fletcher Cove Beach Park
Nearby Restaurants and Shops
Restaurants
Jack in the Box - 1967 San Elijo Ave.
The Bestawan Pizza - 148 Aberdeen Dr.
Beach House at Cardiff by the Sea - 2530 S. Coast Highway 101
Ki's Restaurant - 2591 S. Coast Highway 101
Chart House - 2588 S. Coast Highway 101
Las Olas - 2655 S. Coast Highway 101
Beach Grass Cafe - 159 S. Coast Highway 101. Solana Beach
Beach Supplies
Seaside Market - 2087 San Elijo Avenue
7 Eleven - 2211 San Elijo Avenue
Mitch's Surf Shop - 363 N. Coast Highway 101, Solana Beach
Blue Water Tackle - 124 Lomas Santa Fe Dr. Solana Beach
Ocean Safety
California State Parks and Recreation cautions that "large surf, cold water temperatures, backwash, sudden drop-offs, pounding shorebreak, and dangerous rip currents can turn what seem like safe activities such as playing near the surf line, wading, or climbing on rock outcroppings, deadly." Learn more about ocean safety at CA State Parks: Ocean Safety