Hearst San Simeon State Park
Beach Activities
Caution: Check with rangers or lifeguards that conditions are safe for your planned activities.
Moonstone Beach Boardwalk and Tide Pools
A wheelchair accessible boardwalk extends along the shore at Moonstone Beach, making a great place for a casual stroll and to enjoy the coast. Vista points and benches are located along the route. In several places stairs and paths lead down to the beach. Watch for marine wildlife such as harbor seals and sea otters. At the north end of Moonstone Beach at Leffingwell Landing is a great place to explore tide pools.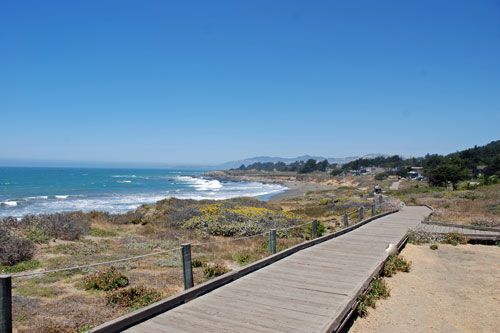 Hiking San Simeon Creek Trail
The 3.5-mile San Simeon Creek Trail circles the San Simeon Creek and Washburn campgrounds. A quarter-mile section of the trail over a wetlands area is a raised boardwalk and wheelchair accessible. Start the trail at the Washburn Day-use Area.
Viewing areas and interpretive signs are set along the trail. Hikers pass through Monterey pines, Cambria pines, cottonwoods, lush riparian areas, and grassy slopes.
Hiking North to Hearst Memorial Beach
Ambitious hikers can do the full 4.6 miles north from the Junge Ranch area near San Simeon all the way to William R. Hearst Memorial State Beach. Others may opt for simply a couple of miles along the bluffs before the trail descends to the beach.
Begin the hike a short distance north of San Simeon Creek Road at the end of Lone Palm Drive.
Scarecrows on Moonstone Beach
In October the city of Cambria and Moonstone Beach are taken over by more than 200 scarecrows. Created by local artists and businessmen, the scarecrows line the streets and invade the beach. It's all part of the annual Scarecrow Festival.
In years past, Moonstone Beach hosted scarecrows such as Don Quixote, Oscar Crew-Sky diver, Moonstone Scuba Man, and a surfer stuck in a tree with Land Sharks circling below.
Junior Ranger Programs
Play games, hike trails, create your own animal, discover tracks, observe wildlife, all while making friends your own age in some of the best places in California! Check the campground bulletin board for information.
Junior Ranger Program for children ages 7 - 12 covers topics such as geology, ecology, history, safety, plants, and wildlife. The Program can take place over several days, or you can start at one park, and then at another time go to a different park. Children should plan to spend about an hour at each activity. At Hearst San Simeon State Park the program is available from Thursday through Monday at 10:00 AM.
Junior Ranger Cubs
The Cubs program is for ages 4-6 and is held at 9:30 AM and 10:00 AM.
The Junior Ranger Program is offered free of charge to visitors who have already paid park entrance or camping fees.
California State Parks Junior Ranger Program