Moonstone Beach
Moonstone Beach stretches from the mouth of Santa Rosa Creek 1½ miles to the north. Moonstone Beach Drive parallels the beach and leads to several access points.
Visitors are attracted by the variety of polished, colored stones on the beach. The rocks were washed down from the nearby hills and smoothed as they tumbled downstream. Once on the beach they are polished even further by the rolling waves. The rocks are chalcedony, a type of microcrystalline quartz.
Parking at Moonstone Beach
From the north the best way to access Moonstone Beach to take Moonstone Beach Drive off Highway 1 and go one third mile south to a beach parking area. From the south take the Windsor Blvd. exit and turn north onto Moonstone Drive. After one third mile turn onto York Street and find a beach parking area.
Washburn Day-use Area and Beach
Washburn Day-use area is next to the campgrounds at Hearst San Simeon State Park. Visitors to the day-use area will find two parking areas. One is inland from Highway 1 and has restrooms, piped water, BBQ grills and picnic tables. It is a more sheltered place to enjoy a picnic. Beach access is easy via a trail under the highway bridge. The ocean-side parking area has several picnic tables.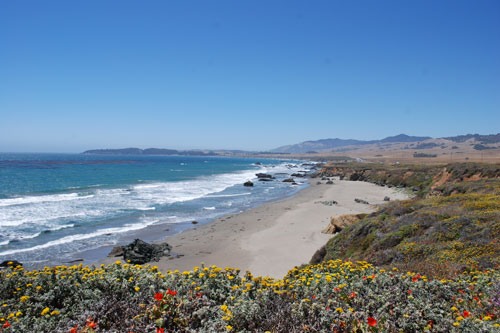 A raised wooden boardwalk and trails connect the Washburn Day-use Area to the Washburn primitive camping campground a short distance up San Simeon Creek. Traditional campsites are found across the creek in the San Simeon Creek Campground.
No dogs are allowed on the beach here.
The Hearst San Simeon State Park also includes Hearst Castle, the Santa Rosa Creek Natural Preserve, the San Simeon Natural Preserve and the Pa-nu Cultural Preserve.