Nearby Beaches

Santa Monica State Beach
Location
Pacific Coast Highway
Santa Monica, CA
(310) 458-8411
Admission
Parking:
Hours: 5:00 AM to dusk
Operated by the City of Santa Monica
Main Attractions
3-mile long beach
Santa Monica Pier
Surfing, swimming
Facilities and Features at Santa Monica Beach and Adjacent Parks
Restrooms, outdoor showers
Beach food concessions
Surfboard, bike and skate rentals
Lifeguards
Santa Monica Pier
Athletic equipment at Muscle Beach
Chess boards at Chess Park
Picnic tables and children's playground at South Beach Park & Beach Park 1
Basketball and tennis courts at Ocean View Park
Annenberg Community Beach House
Volleyball courts
Bike Path
Accessibility
Parking, restrooms
Beach wheelchairs in locker by restroom in parking lot #1
Bike Trail
Wooden paths from parking lots to sand on either side of pier
Beach wheelchairs at Perry's Cafe 900 PCH and 2400 Ocean Front Walk
Hazards Include
Caution: Check with rangers or lifeguards that conditions are safe for your planned activities.
Beach Regulations
(partial list)
No dogs allowed on sand west of Oceanfront Walk or northerly of the westerly prolongation of the center line of California Ave.
No alcohol or glass allowed on beach.
No fires or BBQs on beach.
No camping, fireworks, glass containers
No tents or shelters with sidewalls
Santa Monica webcam:
Santa Monica Pier Webcam>
LA Beaches Water Quality:
County of Los Angeles Public Health
Books of
Local Interest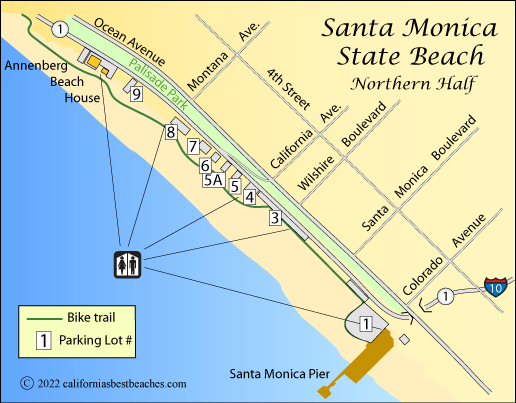 Santa Monica
State Beach
Santa Monica State Beach spreads along 3 miles of sand in the heart of metropolitan Los Angeles. As one of the most popular beaches in California, it draws visitors from the Los Angeles region as well as from across the country. The iconic Santa Monica Pier serves as the beach's anchor, with bike trails and walking paths stretching away north and south.
Facilities at the beach include restrooms, lifeguard towers, and picnic areas, a Chess Park, Muscle Beach with its exercise equipment, a number of restaurants and snack shops, and the Annenberg Community Beach House, along with basketball, volleyball and tennis courts.
Parking at Santa Monica State Beach
Santa Monica maintains an excellent parking website (along with a mobile app) which displays available parking and current rates:
Santa Monica Parking Map
Parking lots along the beach nearly all accept cash or credit cards. Lots closer to the pier are slightly more expensive. Metered parking is available on many adjacent streets, usually $1 to $2 per hour during the day and free at night. Numerous other parking lots are located nearby.
Parking times for most of the lots are similar, except for Lot 1 North which is open from 6:30 AM to 2:00 AM and Pier Parking which is available from 7:30 AM to 12 midnight.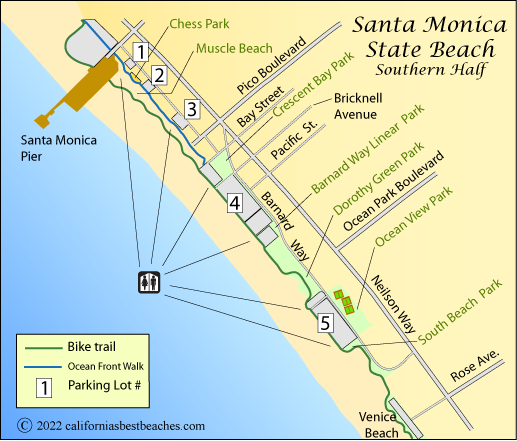 Santa Monica Beach Parking - Summer
Parking Lot
Hours*
# of Spaces
Weekday Fees
Weekend, Holiday Fees
*Summer hours **Cash or Discover, Mastercard or Visa only
***Cash only (bills or coins)
9 North
6AM-7:30PM
79
$8 per day
$10 per day
8 North
6:30AM-7PM
214
$8 per day
$10 per day
4-7 North
6:30AM-7PM
44-85
$8 per day
$10 per day
3 North
6:30AM-7PM
460
$12 per day
$12 per day
1 North
6:30AM-2AM
1173
$12 per day
$12 per day
Pier Parking
7:30AM-12AM
277
$3 per hr., $15 max per day
$3 per hr., $15 max per day
1 South
6:30AM-7PM
66
$1 per hr, 2 hr. max
$1 per hr, 2 hr. max
2 South
6:30AM-7PM
63
$12 per day
$12 per day
3 South
6:30AM-7PM
120
$12 per day
$12 per day
4 South
6:30AM-7PM
1319
$8 per day
$10 per day
5 South (short term)
6:30AM-7PM
87
$1 per hr., 2 hrs. max
$1 per hr., 2 hrs. max
5 South**
6:30AM-7PM
784
$8 per day
$10 per day
200-298 Ocean Front Walk Park, Venice***
6:30AM-7PM
$6 per day
$9 per day
Into the Surf
Mild surf at Santa Monica Beach make it a popular place for families to spend the day playing in the sand, sun bathing, and enjoying the waves. During the summer surfing is limited to the stretch of beach between lifeguard towers 18 and 20 (Pico Boulevard to Bay Street) or between towers 28 and 29 (Ashland Avenue to Pier Street). Before surfing it is best to check with the lifeguards. Body boarding and boogies boarding are popular at Santa Monica Beach.
Before swimming after a heavy rain, check the water quality link on the right to see if conditions are safe for swimming.
Nearby Restaurants
Back on the Beach Cafe, at the Annenberg community Beach House, indoor and outdoor seating, breakfast lunch and dinner service
Perry's Cafe, 2600 or 2400 Ocean Front Walk, 1200 or 930 Pacific Coast Highway; breakfast, lunch, and afternoon delights - burgers, salads, tacos, coffee, pastries
Hot Dog on a Stick, 1633 Ocean Front Walk - hot dogs, fries, lemonade
Shutters on the Beach, on the beach, south of the pier, featuring Coast, a casual beachfront cafe and bar
Pizza Pizza, 1205 Palisades Beach Road - (310) 450-3577
For restaurants on the pier, see Santa Monica Pier
Nearby Groceries
Vons, 710 Broadway
7-11, 630 Wilshire Boulevard
L & K Food Mart, 2127 Main Street
Starbucks
308 Wilshire Boulevard
1356 3rd Street Promenade (north of Santa Monica Boulevard)
2671 Main Street (south of Ocean Park Boulevard)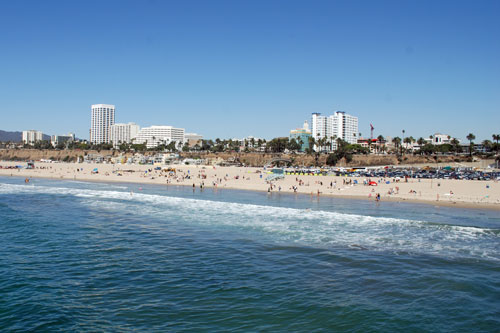 Santa Monica Beach Features
Bike Trail
The Bike Trail at Santa Monica Beach is part of the Marvin Braude Bike Trail, which extends 22 miles from Will Rogers State Beach in the north to Torrance County Beach in the south. Along Santa Monica Beach the Bike Trail winds across the beach, passing under the pier. Vehicles allowed on the beach bike path include unicycles, bicycles, bicycles with training wheels, wheelchairs, and single-person tricycles.
Ocean Front Walk
Coming from the south, Ocean Front Walk separates from the Bike Trail near Bicknell Avenue and swings to the east, passing Muscle Beach and Chess park before arriving at the Santa Monica Pier. Bicycles are not allowed on the Ocean Front Walk.
Annenberg Community Beach House
The Annenberg Community Beach House, located at the north end of the beach, is a public facility offering fitness classes, recreation program, and cultural events. It has a pool, beach volleyball courts, a cafe, and rec room. No membership is required.
Annenberg Community Beach House
Santa Monica Pier
World-famous Santa Monica Pier draws thousands of visitors every year. Ride Pacific Park's Ferris wheel and the historic 1922 carousel. Food and refreshments are available at the many restaurants and food stands. There is so much to see and do on the pier that we have devoted a full page to it:
Santa Monica Pier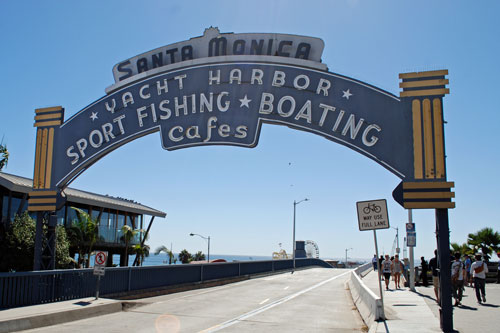 Parks at Santa Monica Beach
A number of parks adjacent to Santa Monica Beach offer a variety of activities from picnicking to tennis, from chess boards to exercise equipment. We give all the details on our
Santa Monica Beach ACTIVITIES page.
Ocean Safety
California State Parks and Recreation cautions that "large surf, cold water temperatures, backwash, sudden drop-offs, pounding shorebreak, and dangerous rip currents can turn what seem like safe activities such as playing near the surf line, wading, or climbing on rock outcroppings, deadly." Learn more about ocean safety at CA State Parks: Ocean Safety
Search This Site