Pacific Park
Pacific Park Family Amusement Center on the famous Santa Monica Pier is in full operation every day during the summer months. Other months it is usually in partial operation mode on weekdays and full operation on weekends.
Rides at Pacific Park
West Coaster
Sea Planes
Inkie's Air Lift
Inkie's Scrambler
Santa Monica Pier Patrol
Frog Hopper
Pacific Wheel
Inkie's Wave Jumper
Inkie's Pirate Ship
Sig Alert EV
Sea Dragon
Pacific Plunge
The park also has games and food. Park hours vary by day and season. It usually opens at 10 or 11 AM in the summer and stays open until 11:00 PM or 12:30 AM.
Ticket Prices: $5 - $10 per ride, or unlimited ride wristbands (8 years and older $29.95, 7 and younger $16.95)
Pacific Park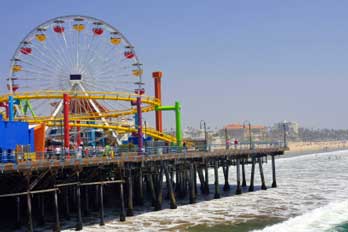 Santa Monica Pier Twilight Concerts
Free, Thursday nights, early July - mid-September
7:00 PM to 10:00 PM
Contemporary and classic music
Twilight Concerts
Restaurants and Food Shops on the
Santa Monica Pier
Rusty's Surf Ranch
Open Monday - Friday at Noon
Saturday and Sunday at 11:00 AM
Rusty's is a multi-use facility with dining, cocktails, dancing, and live music. Their game room has 2 pool tables. Two dining patios with gas heaters available in the winter.
Menu Sample: Quesadillas, homemade dips, crab cakes, calamari rings, buffalo chicken wings, surf ranch nachos, fresh garden salads, burgers, roast pork sandwiches, pasta, kids' menu
Rusty's Surf Shop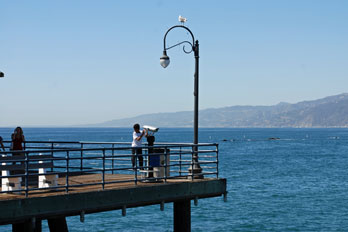 Mariasol Cocina Mexicana
Mouthwatering Mexican fare such as you might find at a Mexican beach down. Decor celebrates the cantina ambience. two outdoor dining areas, plus two stories of indoor dining. Strolling Mariachi trio.
Mariasol Cocina Mexicana
Bubba Gump Shrimp Co.
Menu items include Popcorn Shrimp, Crab Stuffed Mushrooms, Calamari, Dixie Fishwich, Texas Cajun chicken Sandwich, Baja Shrimp Tacos, Clam Chowder, Shrimp Shack Pasta, Angus Top Sirloin, Baby Back Ribs, Steamed Crab Legs, and much, much more.
Bubba Gump Shrimp Co.
Soda Jerks
Ice cream sundaes, hand pumped sodas, and more - all served at an old-fashion fountain.
Soda Jerks
Pier Burger
Opens every day at 8:30 AM. Burgers, hot dogs, sandwiches, fries, frozen custard, shakes, floats, waffle cones and cups, sundaes, drinks, and more.
Pier Burger
Santa Monica Pier Seafood
Open-air patio dining with a great seafood menu.
Ristorante Al Mare
Fine Italian dining with rooftop views, coming soon to the pier. Rooftop bar-lounge, live entertainment.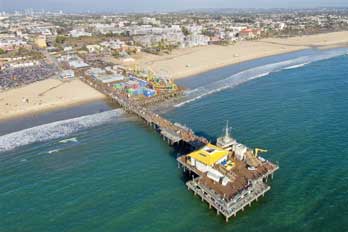 Santa Monica Pier Aquarium
The Santa Monica Pier Aquarium is a public marine education center located the next level below the carousel on the pier. The aquarium contains more than 100 species of marine animals and plants which are found in the Santa Monica Bay.
Aquarium visitors can study microscopic sea life, learn about the marine life in Santa Monica Bay, and even get a hug from a spiky sea urchin. Among the favorite times for visitors is during feeding of the marine animals in the touch tanks on Tuesday and Fridays. Feeding begins at 2:30 PM. For the voracious shark, feeding is on Sundays at 3:30 PM.
Aquarium Hours and Entrance Fees
Open Tuesday through Sunday. On weekdays it is open from 2:00 PM to 5:00 PM, while on weekends it is from 12:30 PM to 5:00 PM.
Children 12 and under are free. Everyone else has a suggested donation of $5 per person, or a $3 minimum entry fee. (Groups of 10 or more are $2 per person of any age.)
Trapeze School
Trapeze School New York offers classes in trapeze to all levels, including beginners. They also have multi-session workshops to meet the needs of more advanced flyers.
To help train flyers, they provide an above-ground trampoline with a rebounding bed so that participants can develop the fundamentals of body awareness and prepare themselves for somersaults and twisting skills. The skills they learn on trampoline are can be applied to other gymnastic activities.
Instruction is also offered in silks ropes, and hammock, static trapeze, and lyra.
Youth Adventure Program
Children ages 6 to 14 spend a week in the summer learning to soar on the trapeze along with other circus acts. After a week of instruction, participants put on a Public Showcase followed by a party. The program has 3 sessions in late July through mid-August.
Trapeze School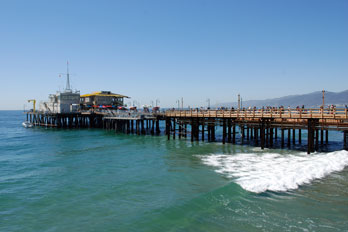 Santa Monica Pier Shops and Attractions
66 to Cali
Everything in the 66 to Cali shop is made in the USA. Look for shirts, books, magnets -- all kinds of merchandise related to historic Route 66.
The Historic Carousel
Ride an historic carousel built in 1922 and enjoy drinks from a vintage soda fountain. The carousel has 44 hand-carved horses. Music is provided by an old-fashion calliope.
Playland Arcade
The Playland Arcade has been on the pier for decades. They have a variety of video games and all your favorite old school arcade games. Among the favorites are Skee Ball, shooting games, Dance Dance Revolution, pinball, air hockey, and Guitar Hero.
Blazing Saddles
Blazing Saddles is a bike rental and tour shop. Their rentals include bikes, tandem bikes, roller blades, and bike trailers. Once of the favorite area rides is down the bike trail to Venice Beach and back. Or sign up for one of their guided tours of the area. Bring cash since they don't accept credit cards.
Pier Shop and Visitor Center
Cruise the shop and learn about the history of historic Santa Monica Pier. Look for old photos, beach gear like swim trunks, caps, and shirts. Also gift cards.
Marlene's Beachcomber
A beachshop selling sunscreen, swim suits, beach mats, towels and more.
Oatman Rock Shop
Rocks, seashells and similar items. A pier tradition since 1965.
Fishing on the Santa Monica Pier
The Pier Bait and Tackle Shop can set you up with whatever you need to make your day of fishing on the Santa Monica Pier successful. Anglers have been catching a wide variety of fish off the pier over the years. Among the most common fish are bonito, sardines, walleye surfperch, white croaker, scorpionfish, kelp bass, and halibut. Now and then someone will land a white seabass or barracuda.