Exploring the Tide Pools
Those who arrive at Schooner Gulch and Bowling Ball beaches are not only rewarded with fascinating geologic formations but also with captivating tide pools teeming with marine life.
Caution: Before setting out to Schooner Gulch or Bowling Ball Beach, check with rangers that conditions are safe for your planned activities. (707) 937-5804
Sea stars are usually find at the lower end of the tidal zone, clinging tenaciously to rocks. Ochre sea stars, however, are usually spotted in the middle of the tidal zone. Despite their name, they are often brown, orange and rose colored. The sea stars feed on the abundant shellfish such as mussels.
Another common resident of the tide pools, the sea anemone, can be found in a variety of colors. In northern California the giant green anemone can be found in the tide pools. Anemones are territorial and are known to battle one another to protect their space.
The radiating spines of the sea urchin warn predators to beware. For the most part they feed on kelp. Other creatures visitors are likely to see are limpets, barnacles, hermit crabs, and octopuses.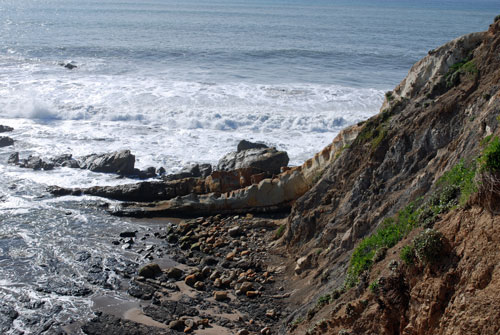 Rocks along the shore of Schooner Gulch Beach