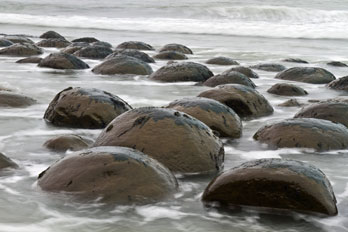 Bowling Balls on the Beach
The spherical rocks on Bowling Ball Beach attract sightseers, geologists, and photographers. Lined up nearly in rows on the beach, the sandstone balls are about 2 to 3 feet in diameter. These sedimentary rocks were formed when mineral cements bound grains of sand or stone into larger formations. These bowling ball rocks are known as concretions.
The concretions were formed inside the softer Cenozoic mudstone of the bluffs along the coast. As the surrounding stone was worn away by waves, the concretions were exposed.
Farther north along the beach are concretions which have taken a different shape. Resembling giant English muffins, the rocks are pressed against the face of the cliff where they have gradually been exposed by the pounding waves. Some are still attached to the slope of the cliff while others have slid down to rest on the edge of the beach.
Saunders Reef State Marine
Conservation Area
The Saunders Reef State Marine Conservation Area begins immediately south of Schooner Gulch State Beach, at mile marker 11 along Highway 1 and extends south about 4 miles to Slick Rock Creek. Within the Conservation Area all living marine resources are protected. The only recreational fishing allowed in the Conservation Area is trolling for salmon. Fishing is allowed along Schooner Gulch and Bowling Ball Beach.
California State Marine Protected Areas