Nearby Monterey Co. Beaches
Southern Big Sur Events and Attractions
Jade Festival
October 5-7, 2018
Pacific Valley School near Sand Dollar Beach and Plaskett Creek Campground
Admission free
Big Sur Jade Festival
Point Piedras Blancas
Highway 1, 7 miles north of San Simeon.
A lighthouse and elephant seal rookery.
Free admission to elephant seals viewing areas.
Friends of the Elephant Seal docents are often on hand to answer questions.
Friends of the Elephant Seal Beach Webcam

Lighthouse Tours are offered at 9:45 AM every day except Sunday during the summer and Tuesdays, Thursdays and Saturdays the rest of the year. Tours meet at the former Piedras Blancas Motel located 1.5 miles north of the light station on Highway 1.
Hearst Castle
Highway 1, San Simeon, CA
Tour the famous Hearst Castle.
A variety of tours are offered.
Southern Big Sur Beaches
Between Lopez Point and Cape San Martin along the southern Big Sur coast are a number of great little beaches that are worth visiting. Anyone looking to play in the waves might do better farther north or south, but for fishermen, photographers, surfers, beach combers, campers, rock hounds, sun bathers, dog walkers, and adventurers - the southern Big Sur beaches are calling.
Caution: Check with rangers or lifeguards that conditions are safe for your planned activities.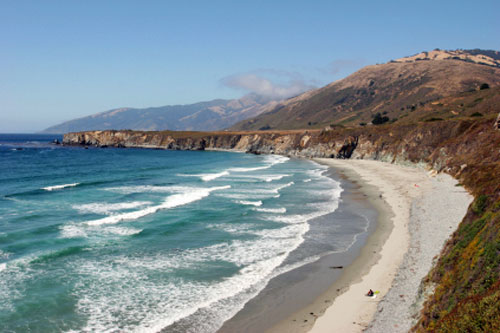 Hang Gliding
Experienced hang glider pilots in the area like to launch from Prewitt Ridge, high in the coastal mountains, and work their way down, eventually landing in the broad open field north of Sand Dollar Beach. To the reach the launch spot, drive up Nacimiento-Fergusson Road (just south of Kirk Creek Campground). Follow the road 7 miles to the Prewitt Ridge Road on the right. Another 5 miles leads to the launch site just north of the summit of Prewitt Ridge. The elevation there is about 3,000 feet.
The southern Big Sur area is often too foggy for flying in the summer. Fall months are usually among the best. The flight is probably suitable for those rated H2/P2, but first timers in the area should hitch up with someone experienced with the launch site and landing zone.
Ocean Safety
California State Parks and Recreation cautions that "large surf, cold water temperatures, backwash, sudden drop-offs, pounding shorebreak, and dangerous rip currents can turn what seem like safe activities such as playing near the surf line, wading, or climbing on rock outcroppings, deadly." Learn more about ocean safety at CA State Parks: Ocean Safety