Sand Dollar Beach &
Jade Cove Beach
Location
Southern Big Sur, Monterey County
Highway 1
60 miles south of Carmel
30 miles north of San Simeon
Sand Dollar is immediately north of Plaskett Creek Campground.
Jade Cove is less than ½ mile south of Plaskett Creek Campground.
Admission
United States Forest Service Day Use Areas
Hours: 9:00 AM to 6:00 PM
Fees: $5 for day use at Sand Dollar Beach
(805) 434-1996 or (805) 925-9538
Main Attractions
Long, beautiful beach
Picnicking
Geology
Surfing
Fishing
Facilities
Restrooms at Sand Dollar parking lot
14 Picnic tables with BBQs at Sand Dollar
Trail and stairs to Sand Dollar beach
Overlook
Accessibility
Parking lots
Restrooms
Path to Sand Dollar Beach observation point
Special Regulations
Regulations govern collection of jade
Dogs on leash allowed
No fires on beach
Hazards Include
Unstable coastal cliffs
Dangerous waves
Strong rip-currents
Poison oak
Caution: Check with rangers or lifeguards that conditions are safe for your planned activities.
Sand Dollar Beach
Beautiful Sand Dollar Beach along Monterey's Big Sur coast is a popular place for picnicking, beach combing, searching for jade, fishing, and surfing. It is the largest beach in the area with plenty of room to spread out. The rough waves and strong rip-currents make it dangerous for wading and swimming.
The level bluffs above Sand Dollar Beach and Jade Cove have been designated as a hang glider and paraglider landing area.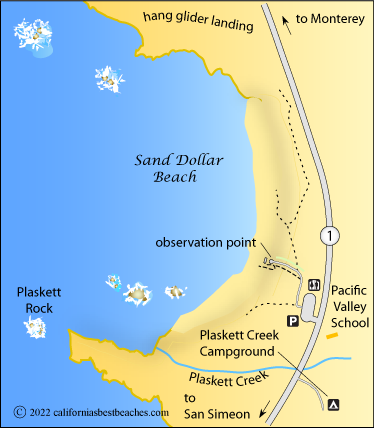 Surfing at Sand Dollar Beach
Surfers rate Sand Dollar Beach as one of the best surfing spots along this section of coast. The paddle out is best along the rocks near the creek channel with the aid of rip-currents. The waves come in big and can break well out from shore or can be forgiving and gentle breaking close to the beach. Finding the right place to set up can sometimes be challenging.
Camping at Plaskett Creek Campground
Plaskett campground is practically right across the highway from Sand Dollar Beach. The campground is a family-oriented site with a variety of activities nearby. Many surfers like to stay there because it is easy to walk to the beach from the campground. Past campers noted how clean and quiet the campground was and how friendly and helpful the campground hosts were.
The campground has 38 single family campsites along with 3 group sites, all for either tent or RV. The group sites can accommodate up to 40 people. The individual campsites each have a table and campfire ring with grill. Restrooms have flush toilets and drinking water is available around the campground.
Fees: $22 for single site, $80 for group site
Reservations: Recreation.gov - Plaskett Creek Campground
Jade Festival
The admission free Jade Festival takes place at Pacific Valley School next to the Campground on Columbus Day weekend every year. This year it is set for October, 2016. The festival has live music, food and plenty of jade for sale.
Big Sur Jade Festival
Jade Cove
Jade Cove attracts many who are in search of the nephrite jade that can often be found here. Although there is a sign along the highway, there is little in the way of improvements at the cove. A couple of pull-out areas along the highway offer space for parking and unimproved use-trails lead across the coastal bluffs and down to the water's edge. North Jade Cove is the area between Jade Cove and Sand Dollar Beach.
Caution
As in most places along the coast, the surf here is dangerous and those searching for jade should never turn their back on the ocean. Rogue waves can appear unannounced and sweep unwary visitors off the shore.
Searching for Jade
Eager jade hunters visit the cove area often, especially early in the morning before others have had a chance to scour the beach. The best times to visit are at low tides, especially soon after a winter storm. There are special regulations which govern the collection of jade. They apply to Sand Dollar Beach, Jade Cove, and other coastal areas within the Monterey Bay National Marine Sanctuary. Check the official regulations for complete and up to date information.
Only loose jade from submerged lands may be collected. Collect your jade from below the mean tide level.
No tools may be used except a hand tool to maneuver and lift the jade or scratch its surface to determine if it is jade.
For divers, lift bags may be used with a combined capacity of no more than 200 pounds.
Each person may collect only what that person individually carries.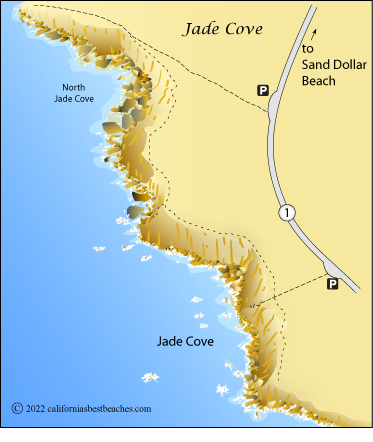 Nearby Lodging
Lucia Lodge
Lucia, CA (9 miles north of Sand Dollar Beach)
(866) 424-4787 toll free or (831) 688-4884 Lucia Lodge
Accommodations: 10 updated, yet rustic, cabins and rooms, private baths
Amenities: Restaurant with family style indoor/outdoor dining, country store, lodge and cabins overlook the Pacific Ocean, sitting area with panoramic view, free continental breakfast
Rates: $$$
Gorda Springs Resort
Highway 1, Gorda, CA
(805) 927-4600
Cabins
Facilities: Restaurant
Rates: $$$
Ragged Point Inn and Resort
19019 Highway 1, Ragged Point, CA
17 miles south of Sand Dollar Beach
805-927-4502 Ragged Point Inn and Resort
Accommodations: Ocean-view rooms with decks or balconies and fireplaces; Garden rooms with views of Pacific or Santa Lucia Mountains
Amenities: Restaurant, Wine Bar, Espresso bar, and Sandwich Stand
Rates: $$$
Ocean Safety
California State Parks and Recreation cautions that "large surf, cold water temperatures, backwash, sudden drop-offs, pounding shorebreak, and dangerous rip currents can turn what seem like safe activities such as playing near the surf line, wading, or climbing on rock outcroppings, deadly." Learn more about ocean safety at CA State Parks: Ocean Safety
Search This Site