Nearby Activities and Events
Watsonville
Strawberry Festival
August 4-5, 2018
10 AM - 7 PM
Food, carnival rides, entertainment, and strawberry treats. Usually held in early August. Free Admission. Downtown Watsonville
Watsonville Strawberry Festival
Watsonville
Wetlands Trail
800-acre freshwater wetland, 6 miles of paved trails. Free. Over 200 species of birds. Wildlife includes muskrats, bobcats, and tree frogs.
Watsonville Slough Trails Map
Specialized Aviation
Whale Spotting Tours
40 minute helicopter tours.
Watsonville Airport
(831) 763-2244
Specialized Aviation
Local
Guide Books
Natures Walks on the Dunes
During peak season at Sunset Beach there are nature walks along the dunes along with family and children's programs. Check the Friends of Santa Cruz State Parks website for information about upcoming programs.

Friends of Santa Cruz State Parks
Caution: Check with rangers or lifeguards that conditions are safe for your planned activities.
Swimming and Surfing
Most surfers prefer Manresa State Beach just to the north of Sunset. Swimmers are cautious of the dangerous rip currents at Sunset Beach. Still, body surfing, skim boarding, and boogie boarding are popular there.
Pacific Waverider's Santa Cruz Area Surf Report
Monterey Bay Area Water Temperatures
Santa Cruz County Water Quality Reports
Remote Control Gliders
Sunset Beach is popular for slope gliders. When the wind comes in off the ocean and hits the 200-foot high bluff at Sunset, the air is forced to rise. This rising air lifts slope gliders (and seagulls). Gliders can then fly parallel to the shore on the rising currents indefinitely.
Birding
Birders at Sunset Beach are rewarded with an assortment of waterfowl, shorebirds, and songbirds. Look for Snowy Plovers nesting in the dunes. Watch above for white tailed kites and red-tailed hawks. Other birds likely seen at Sunset are Whimbrel and Long-billed Curlew. The campground area offers a great place for birding in the morning.
Santa Cruz Bird Club
Junior Ranger Program, Ages 7-12
Play games, hike trails, create your own animal, discover tracks, observe wildlife, all while making friends your own age in some of the best places in California!
Junior Ranger Program for children ages 7 - 12 covers topics such as geology, ecology, history, safety, plants, and wildlife. The Program can take place over several days, or you can start at one park, and then at another time go to a different park. Children should plan to spend about an hour at each activity.
The Junior Ranger Program is offered free of charge to visitors who have already paid park entrance or camping fees.
California State Parks Junior Ranger Program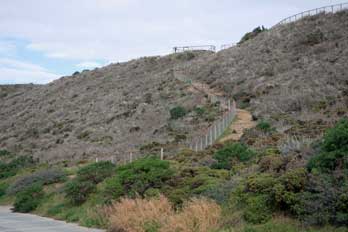 Picnicking
A low row of dunes separates the picnic area from the beach, serving as a buffer from coastal winds. A large ramada and a row of smaller picnic areas are spread along the leeward side of the dunes. Several of the picnic sites have shade structures. The ramada can be reserved for group activitties.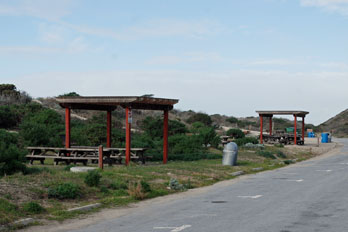 Ocean Safety
California State Parks and Recreation cautions that "large surf, cold water temperatures, backwash, sudden drop-offs, pounding shorebreak, and dangerous rip currents can turn what seem like safe activities such as playing near the surf line, wading, or climbing on rock outcroppings, deadly." Learn more about ocean safety at CA State Parks: Ocean Safety