On the Sand at Trinidad Beach
While not safe for swimming, Trinidad Beach still has plenty to offer for visitors to its broad expanse of sand. From Trinidad Head, north to the far end of College Cove Beach, is nearly a mile. At low tide visitors like to make the stroll, all the time watching as waves crash against Pewetole Island, Flatiron Rock, and a number of sea stacks. A grove of Sitka spruce crowns Pewetole Island. Those in the know watch for an eruption of the blowhole in the island.
Caution: Check with rangers or lifeguards that conditions are safe for your planned activities.
The beach is popular for playing Frisbee, flying kites, sitting in a comfortable chair and reading, birding, sunbathing, fishing, volleyball, and building sandcastles. Dogs on leashes no longer than 6 feet are allowed on Trinidad Beach as well as on the trails and parking areas.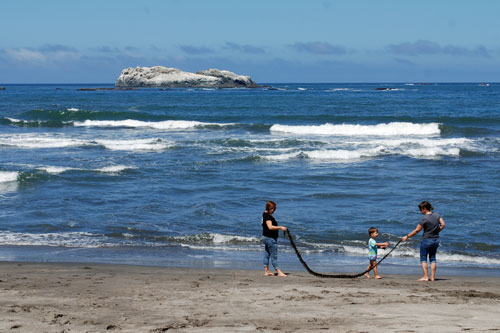 Trinidad Beach and Flatiron Rock
Surfing at Trinidad Beach
Surfers at Trinidad Beach find a reasonably consistent reef and beach break. Waves at the beach will break right and left. Even with a mostly sandy bottom surfers have to be on the lookout for rocks. It's not a spot for beginners.
Camel Rock and Moonstone Beach to the south of Trinidad draws a fair number of surfers.
Surf Lessons
Moonstone Beach Surf Camp
Trinidad, CA
(707) 822-5099 Moonstone Beach Surf Camp
Small group and private lessons, ages 8 and older.
Trinidad State Beach Surf Lessons
Trinidad, CA
Trinidad State Beach Surf Lessons
Any age, beginner through advanced.
Surfboard, Kayak, and Paddleboard Rentals
Salty's Supply Co.
332 Main St., Trinidad, CA
(707) 677-0300 Salty's Supply Co.
Sales and Rentals
Surf Rentals: boards, wetsuits, and accessories.
Kayak Rentals: Single and tandem
Bike Rentals, fishing and crabbing rentals
Kayak Zak's
Humboldt Lagoons State Park,
115336 Highway 101, Trinidad, CA
(707) 498-1130 Kayak Zak's
Kayak and Stand up Paddleboard Rentals at Stone Lagoon, Big lagoon County Park, and Trinidad Cove
Kayaks, SUPs, and all the accessories
Guided trips available