Nearby Beaches
Trinidad
State Beach
Location
State Park Road, Trinidad
19 miles north of Eureka, off Hwy. 101
Sunrise to sunset
(707) 677-3570
Fees: None
Main Attractions
Trinidad State Beach
Nearby beaches
Trinidad pier
Trinidad Harbor
Fishing
Park Features
Beaches
Tide pools
Day-use Picnic Area
Trails to beaches
Vista Point
Boardwalk
Restrooms
Free parking
Accessibility
Horse Trail off Stagecoach Rd.
Hazards Include
Rogue waves
Rip-currents
Cold water
Caution: Check with rangers or lifeguards that conditions are safe for your planned activities.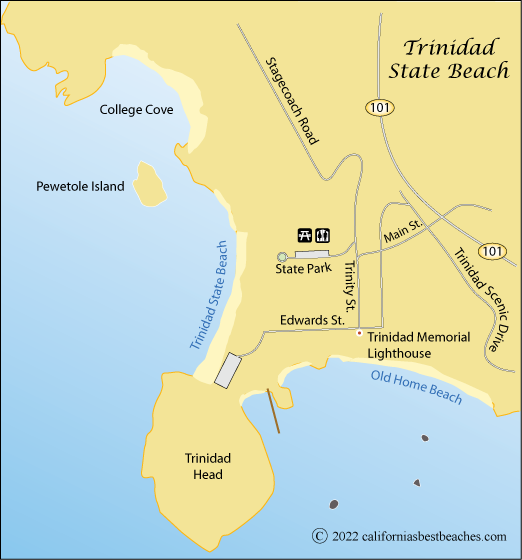 Trinidad Beach
Trinidad Beach stretches north from Trinidad Head adjacent to the picturesque town of Trinidad, 19 miles north of Eureka. This beautiful beach is easy to access and offers free parking either at the large lot near Trinity Harbor or on State Park Road. From State Park Road trails lead down to the beach.
Cold water and dangerous surf make Trinidad Beach more of a place to stroll along the sand, relax on the beach, or play a game of Frisbee than it is a beach for swimming or wading. Farther up the coast the more protected waters of College Cove attract some swimmers when conditions are safe. At low tide it is easy to move along the coast here from cove to cove, but caution should be taken not to become trapped in a cove as the tide comes in.
Around on the harbor side of town Old Home Beach or Indian Beach are alternatives with more sheltered waters.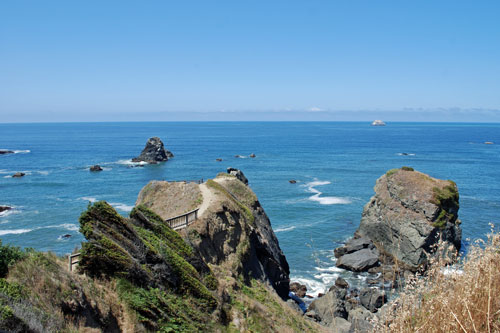 Luffenholtz Viewpoint
Nearby Beaches
Luffenholtz Beach
Luffenholtz Beach County Park is only a short drive south on Trinidad Scenic Drive from town. A popular feature at the park is a scenic overlook perched on a rocky point. From the overlook, visitors can look south to Houda Point Beach and on clear days even as far as Calm Beach. A trail leads down to Luffenholtz Beach, a wonderful place to admire to rocky coast.
Moonstone Beach
Moonstone Beach County Park is 3 miles south of Trinidad and immediately north of the mouth of Little River. The beach is popular with surfers, beach combers, and those who like to wade in the calmer waters of the river. Several sea stacks along the coast provide dramatic images for photographers.
College Cove Beach
At the northern end of Trinidad Beach is College Cove and is accompanying beach. Tide pools and interesting rock formations make it a fascinating place to explore. A parking lot off Stagecoach Road has two trails leading down to the beach. The northern trail has more than 100 steps. Visitors should be watchful of the tide which can come in rather swiftly and on some occasions sweep across the sand.
The Community of Trinidad
The picturesque town of Trinidad has a population of less than 500. Resting above a beautiful natural harbor and overlooking a spectacular coastline, the town attracts a steady flow of visitors year-round. Among the landmarks are the Trinidad Memorial Lighthouse and Trinidad Head Light. Humboldt State University's Fred Telonicher Marine Laboratory is on the west side of town. The laboratory is a center for marine and environmental science teaching and research for the students at Humboldt State.
Trinidad Memorial Lighthouse
The Trinidad Memorial Lighthouse was erected in 1949 as a memorial to the original Trinidad Head Lighthouse which was dismantled a few years earlier. The original Fresnel lens was installed in the lighthouse's lantern room. Next to the lighthouse the original fog bell was suspended from a wooden frame. the lighthouse includes a memorial to those who were lost at sea.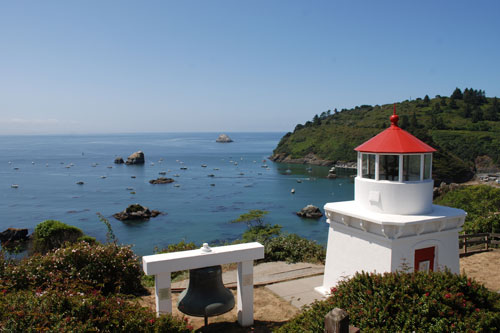 Trinidad Pier
Trinidad Pier is primarily a commercial fishing facility. Sport fishing boats load and unload at the pier. The pier was constructed in 1946 and is privately owned. As a result, fishing licenses are required for those who fish from the wooden pier. Restrooms are located near the parking lot at the foot of the pier.
Ocean Safety
California State Parks and Recreation cautions that "large surf, cold water temperatures, backwash, sudden drop-offs, pounding shorebreak, and dangerous rip currents can turn what seem like safe activities such as playing near the surf line, wading, or climbing on rock outcroppings, deadly." Learn more about ocean safety at CA State Parks: Ocean Safety
Search This Site