El Capitan State Beach Activities
With the south facing beach protected from the heavy northern swells, El Capitan Beach is a popular swimming spot. Cold Pacific temperatures don't hold back eager water sports enthusiasts. Boogie boarders, skim boarders, swimmers, and just those who like to wade out into the surf enjoy El Capitan's generally tame waves.
Caution: Check with rangers or lifeguards that conditions are safe for your planned activities.
Surfing at El Cap
Surfers keep an eye on El Capitan, waiting for those amazing days when the break off the point is unrivaled along the Santa Barbara coast. During a west swell when things are right, the wave can seem to break forever, providing spectacularly long rides. Dangerous rocks on the point make it a location for experienced surfers. The point gets very crowded when the waves are up.
Oceanside Picnics
A row of picnic tables along a grassy shelf overlooking the beach and ocean make a wonderful place for a picnic at El Capitan State Beach.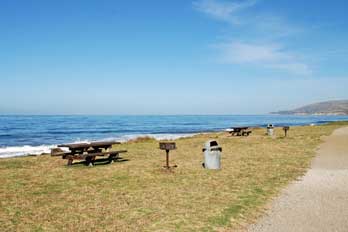 Refugio State Beach Activities
Surfing at Refugio
When the west swell arrives, Refugio Beach has decent surfing near the point. The waves are rarely big enough to attract the same crowds you will find at El Cap, but it can be pretty busy. The reliable smaller waves at Refugio make it a good spot for beginning and intermediate surfers.
Diving
Divers leave the crowds behind on the beach and discover the underwater beauty just below the surface. Kelp beds, reefs, and a rocky point make interesting areas for exploring. A great shelf reef is found off the west side of the beach. Another interesting reef is found to the south. The gentle surf makes it a good spot for beginners to develop their diving skills.
Refugio Junior Lifeguards - 2017
Children between the ages of 7 and 17 can participate in the Refugio Junior Lifeguard Program offered every summer. Participants learn about ocean safety and environmental education. During the 3-week long sessions they learn lifesaving skills, first aid, and CPR. They also develop their physical fitness and learn ocean recreation skills.
Among the recreational activities included in last year's sessions were a sandcastle contest, a field trip to El Capitan Beach for surfing, and a field trip to Gaviota State Beach. Similar activities are planned for this year.
Note: For 2017 there will be only one session which will meet at Refugio State Beach on Mondays and Wedndesdays and at El Capitan State Beach on Tuesdays and Thursdays. Field trips to local beaches will be held on Fridays.
Tryouts
All new applicants for Refugio Junior Lifeguards must pass a tryout evaluation of each child's swimming skills and confidence in the water before they can participate in the program. Tryouts are held at various dates in May and June, 2017. Enrollment begins April 1, 2017.
Refugio Junior Lifeguards
2017 Junior Lifeguard Session
Session: June 26 - July 21, 2017
10:00 AM to 3:00 PM (no JGs on July 4)
Cost: $299 per session