El Capitan
State Beach and
Refugio State Beach
Location
Highway 101
17 - 20 miles west of Santa Barbara
(805) 968-1033
Admission
Day use per vehicle: $10
Park Hours: 8:00 AM to dusk
Main Attractions
Surfing
Camping
Picnicking
Beach walking
Facilities and Features
Parking, restrooms
Campgrounds
Showers
Hiking trails
Lifeguards during peak season
Accessibility
Campsites, restrooms
Picnic area
Beach wheelchair available at entry station. At Refugio Beach call (805) 968-1033 to reserve beach wheelchair
Bluff-top bike/walkway trail
Nature Trail at El Capitan
Campfire Center
Hazards
Rogue waves
Rip currents
Rising tides trapping beach walkers against cliffs
Dangerous cliffs
Special Regulations
Dogs on leash in campground
No dogs on beach or trails
Nearby Beaches
Gaviota State Park, 9 - 12 miles northwest
Jalama Beach County Park, 39 - 42 miles north
Goleta Beach, 13 - 17 miles south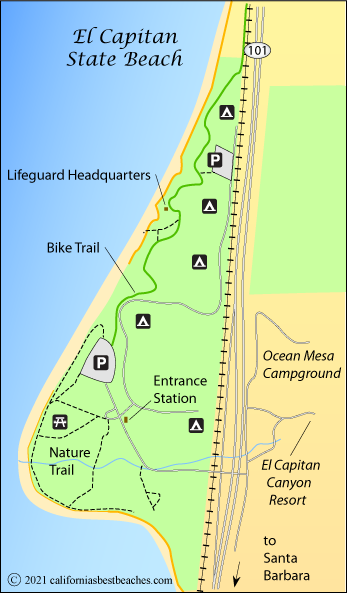 El Capitan State Beach
Only a half hour drive up the coast from Santa Barbara, El Capitan Beach sees a lot of visitors year-round. Among favorite activities along the rock and sand beach are surfing, exploring tide pools, picnicking, sun bathing, and fishing.
A bike-walk trail meanders along the coast, provide great views of the ocean. Clusters of campgrounds along the shore make it a popular destination for campers.
Highlights of El Capitan State Beach
El Capitan Beach property extends across the railroad tracks and Highway 101 up into the lower slopes of the Santa Ynez Mountains, but most visitors confine themselves to the beach areas. A nature trail and a rolling bike-walk trail offer great ways to explore the coast and the forested areas along El Capitan Creek.
Wildlife
A variety of birds can be spotted in the trees. Among the most common are scrub jays, flickers, California thrashers, and band-tailed pigeons. Squirrels scurry about the tree limbs while mule deer forage among the oaks and shrubs. Out along the coast birders spot gulls, loons, Clark's grebes, and scoters. Looking out to sea, you may well see dolphins and passing gray whales.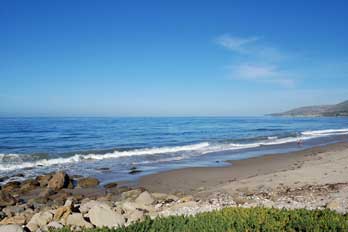 Refugio State Beach
Three miles up the coast from El Capitan State Beach, palm tree-lined Refugio State Beach rests in a shallow cove. Its sandy beach attracts sun bathers and picnickers, beach walkers and anglers. During the summer months lifeguards are on duty.
Key Features at Refugio State Beach
Mile-long sandy beach
Campground close to beach
Kayak Tours led by lifeguards
Plenty of picnic tables and BBQs
General store open on weekends
A coastal bike and walk trail connects Refugio State Beach with El Capitan State Beach, 3 miles down the coast.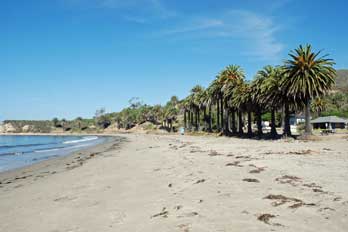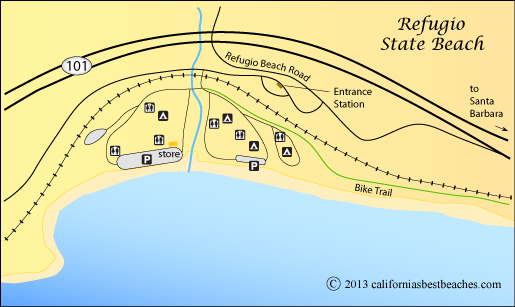 Refugio State Beach
From the bluffs along the edge of the ocean visitors can get a great view of the Channel Islands. Walking along the 1.5-mile long beach can lead to many wonders. Harbor seals can be spotted bobbing in the surf. The tide pools are filled with rich colonies of sea stars, sea anemones, crabs, and other interesting creatures.
Some people like to swim in the freshwater lagoon formed where Refugio Creek empties into the ocean.
Ocean Safety
California State Parks and Recreation cautions that "large surf, cold water temperatures, backwash, sudden drop-offs, pounding shorebreak, and dangerous rip currents can turn what seem like safe activities such as playing near the surf line, wading, or climbing on rock outcroppings, deadly." Learn more about ocean safety at CA State Parks: Ocean Safety
Search This Site