El Capitan State Beach
Location
Off US Highway 101
17 miles west of Santa Barbara
(805) 968-1033
Campsites
119 standard campsites, most for tents or RVs up to 35'
9 RV/trailer only sites (sites #124-132)
3 Group Tent Sites (Cabrillo (up to 60 people), Drake (60), and Ortega (50)
2 Group Standard Sites (de Anza (32) and Portola (40)
Campground Facilities
Restrooms with flush toilets, showers
Fire ring, picnic table
Store, laundry
Campground Fees and Reservations
Standard Campsite:
$45 peak season
$35 non-peak season
Primitive Site
(self-contained RV or trailer only, no amenities): $35
Hike & Bike: $10
Group Campsites
de Anza Group Site: $235
Portola Group Site: $285
Drake Group Site: $320
Cabrillo Group Site: $320
Ortega Group Site: $225

Online Reservations at ReserveCalifornia:
El Capitan State Beach Campground Reservations
or call (800) 444-PARK (7275) between 8 AM and 6 PM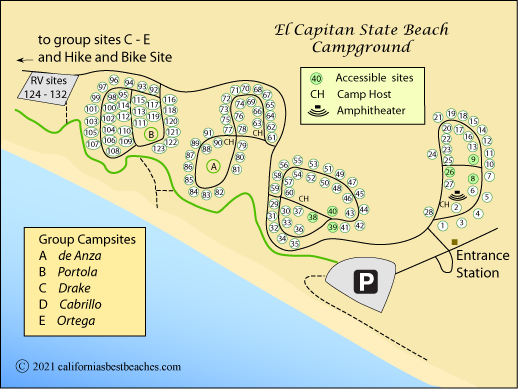 Camping at El Capitan State Beach
Campsites are located in clusters, all close enough to walk to the beach. Each site is for up to 8 people, 1 vehicle, and 1 towed vehicle such as a trailer. Sites can be reserved from April 1 through November 30. The rest of the year sites are first come, first served.
Sites along the north side of the campground near the highway pick up noise of passing trucks. There is no longer a dump station at El Capitan Campground.
Dog Regulations
Dogs must be on leash and are not permitted on trails or beach.
At night dogs must be in a tent or vehicle.
Suggestions and Comments from Previous Campers at El Capitan State Beach
Cross the highway and have a meal at El Capitan Canyon, a private resort and campground.
Watch out for poison oak.
Passing trains are not really a problem.
Watch out for tar on the beach.
Most campsites have some shade, #59 has lots of shade.
Watch out for skunks and raccoons. Store your food in a secure place.
Don't accidentally book an accessible site unless you have a disabled placard to display
Great ocean view sites are #84, 85, 105, 107, and 108.
Bring quarters for the showers.
Supplies are somewhat more expensive at the campground store than in town.
El Capitan State Beach Programs
Junior Rangers
El Capitan State Beach offers a Junior Rangers program designed for children ages 7 to 12. Participants receive a logbook which is stamped every day they attend the program, learning about ocean safety, crafts, animals, and the environment. California Junior Rangers
Campfire Programs
Campfire programs are held at El Capitan State Park during the summer. They are offered by Friends of Channel Coast State Parks. Check their website's Calendar of Events for information about upcoming programs at El Capitan and other nearby beaches.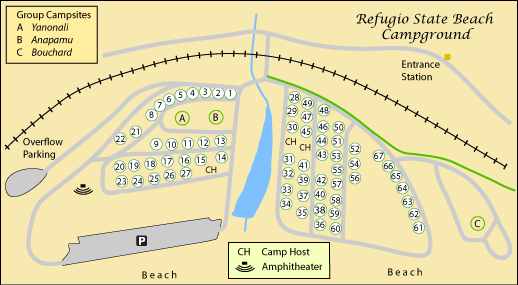 Refugio State Beach Campground
Location
Off US Highway 101
20 miles west of Santa Barbara
(805) 968-1033
Campsites
63 Standard Campsites for tents or RVs up to 35'
3 Group Standard Sites: Yanonali (holds up to 32 people), Anapamu (32 people maximum), and Bouchard (80 people maximum)
Refugio Beach Group Campsites
All three group campsites at Refugio State Beach allow RVs up to 30 or 35 feet. A minimum of 9 people are needed to reserve a group site.
Refugio State Beach Campground Facilities
Restrooms with flush toilets, showers
Fire ring, picnic table
Store, laundry, campfire center
Campground Fees and Reservations
Standard Campsite:
$45 peak season $35 non-peak season
Premium Sites:*
$55 peak season $45 non-peak season
Hike & Bike: $10
Group Campsites
Anapamu Site: $235
Bouchard Group Site: $350
Yanonali Group Site: $235
*Premium sites are listed on the California State Parks website, but none are shown at Refugio State Beach.

Online Reservations at ReserveCalifornia:
Refugio State Beach Campground Reservations
or call (800) 444-PARK (7275) between 8 AM and 6 PM
Junior Rangers
Refugio State Beach offers a Junior Rangers program designed for children ages 7 to 12. Participants receive a logbook which is stamped every day they attend the program, learning about ocean safety, crafts, animals, and the environment. California Junior Rangers
Search This Site