Huntington City Beach
Huntington City Beach's 3½ miles of beach is home to the popular Huntington Beach Pier and the site of numerous international surfing competitions. Known to many as Surf City, Huntington Beach attracts visitors from near and far. Facilities at the beach include restrooms, outdoor showers, food concessions, volleyball courts, basketball courts, and fire rings. Lifeguards are on duty during daylight hours year-round. Beach hours are 5 AM to 10 PM. The pier closes at midnight.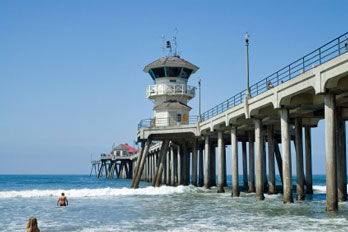 Parking at Huntington City Beach
Four main parking areas provide a generous number of spaces for the heavy summer traffic that converges on the beach. Along the beachfront alone there are 2,400 parking spots.
Pier Plaza Parking
A pair of lots on either side of the pier are self-service parking. Pay at the parking machine and display your receipt on your dashboard. During special events parking here may not be available.
Rates: $1.50 per hour or $15 maximum for a full day
Municipal Parking Lot
The large municipal parking lot at the southern end of the beach has entrance stations at either end. There is no hourly rate.
Rates: $15 maximum for the full day
Main Promenade Parking Structure
On Main Street between Walnut and Olive, the Main Promenade Parking Structure provides additional parking spaces.
Rates: $15 - $20 daily rate. For hourly and other rates, see City of Huntington Beach - Parking
Strand Parking Structure
Enter the Strand Parking Structure off 6th Street. They are open from 9 AM to 12 AM.
Rates: $18 - $20 daily rate. For hourly and other rates, see The Strand - Parking
More parking is found Well north of the pier in lots adjacent to the highway between Goldenwest Street and Seapoint Street.
Huntington Beach Pier
The 1,850-foot long Huntington Pier serves as a focal point for the beach scene. The original pier was erected in 1903 and gradually extended over the years, but storms caused repeated damage to it. After many repairs the original pier was declared unsafe and a new one was completed in 1992.
Ruby's Diner is situated at the end of the pier. About half way out the pier is the Surf City Store, selling clothing and novelties. At the foot of the pier is a Visitor Information Kiosk, open from 10 AM on weekends and 10:30 on weekdays during peak season.
Huntington City Beach and Pier Rules
Riding bikes or skateboards is not allowed on the pier.
The possession and/or consumption of alcohol is not allowed on the beach or pier.
Dogs must be on leash and are only allowed on the service road and the Dog Beach.
Smoking is prohibited on the beach and pier.
The beach closes at 10 PM and the pier at midnight.
Huntington Dog Beach
An area of beach between Seapoint Avenue and 21st Street has been designated as Dog Beach. Its hours are the same as for the rest of the beach, 5 AM to 10 PM.
Huntington Dog Beach