Fort Ord Dunes SP
Location
Fort Ord, Monterey County
From Highway 1, exit Light Fighter Drive (bear right).
Turn left onto 2nd Avenue.
Turn left onto Divarty Street.
Turn right onto 1st Avenue.
Signs posted will direct you to the park entrance at the 8th Street overcrossing of Hwy 1.
Admission
Free
Hours: 8:00 AM to ½ hour after sunset
(831) 649-2836
Main Attractions
Hiking
Beach
Fort Ord history tour
Dunes
Facilities
990 acres of coastal sand dunes
11 acres east of Highway 1, including remnants of Fort Ord
Parking, chemical toilet
Boardwalk, observation platform
Special Regulations
Dogs on leash on roads only
No dogs, horses or campfires on beach
Stay on roads and trails
Accessibility
Parking, chemical toilets
Boardwalk to Overlook, Paved roads
Beach wheelchair through Monterey Bay Kayaks: (800) 649-5357 or (831) 373-5357
Nearby Beaches
Marina State Beach, 3 miles north
Monterey State Beach, 5 miles south
Asilomar State Beach, 12 miles southwest
A Photographic
History of Fort Ord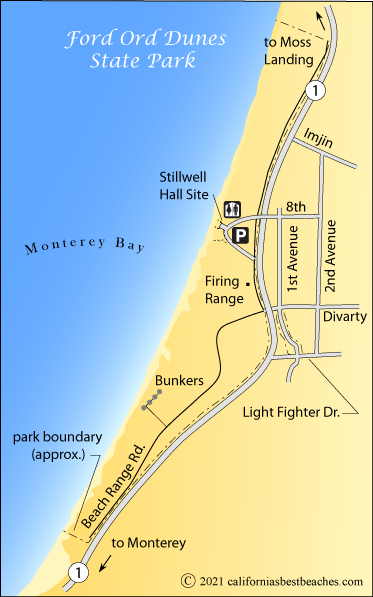 Ford Ord Dunes Wildlife
From the trail visitors can spot the nests of snowy plovers on the beach. Native plants provide habitat for the black, legless lizard and Smith's blue butterfly. Other birds sighted at the beach and dunes are red-tailed hawks, white-tailed kites, sparrows, and Anna's hummingbird. Out in the ocean visitors are likely to catch sight of sea otters, harbor seals, and migrating whales.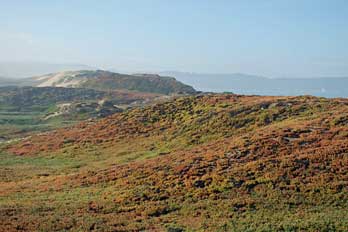 Plans for a Campground
Plans for the future at the park include the addition of a campground at the former storage bunker zone. Perhaps as many as 95 campsites will be added. Hopefully construction of the campground will begin in 2019.
Ft. Ord Dunes Campground Project
Fort Ord Dunes State Park
Fort Ord Dunes State Park is among the newest parks in California. The park has A one-third mile long foot trail that leads to 4 miles of beach. Visitors will have wonderful views of Monterey Bay. There is also a boardwalk taking you to the top of a bluff where there is a viewing platform.
Caution: Check with rangers or lifeguards that conditions are safe for your planned activities.
Dangerous rip currents and a sudden drop-off make the beach hazardous for swimming, but beach-goers enjoy strolling the often empty beach. On clear days you can see from Lover's Point on the Monterey Peninsula all the way to Santa Cruz.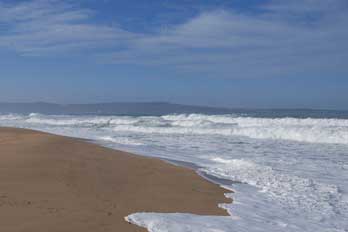 Roads and Trails
Roads in the park are open to hikers and cyclers. Some of the roads lead to remnants of old Fort Ord, such as a firing range and bunkers. In order to protect park resources, visitors are asked to stay on the roads and trails.
Cell Phone Tour
A cell phone tour telling about the history of Fort Ord has been set up. The tour is free, but normal call phone charges apply. Call (831) 998-9458 to begin the tour, When you arrive at a sign with a number, you type in that number to hear the information about that location. For more detailed information, see Fort Ord Cell Phone Tour
The tour begins at Stillwell Hall and passes such locations as the Firing Ranges, Bunkers, and Target buildings.
Monterey Bay Coastal Recreation Trail
Although not shown on our map, the Monterey Bay Coastal Recreation Trail runs along the edge of Fort Ord Dunes State Park between the Beach Range Road and Highway 1. This 18-mile path stretches from Castroville to Pacific Grove, connecting all the beaches in-between. The trail is open to walking, jogging, cycling, skating, and similar activities.
Ocean Safety
California State Parks and Recreation cautions that "large surf, cold water temperatures, backwash, sudden drop-offs, pounding shorebreak, and dangerous rip currents can turn what seem like safe activities such as playing near the surf line, wading, or climbing on rock outcroppings, deadly." Learn more about ocean safety at CA State Parks: Ocean Safety