Nearby Activities and Events
Whale Watching
96 Fisherman's Wharf No. 1 Monterey, CA
(800) 979-3370
Year round whale watching and nature tours narrated by marine biologists/naturalists.
2½ - 3 hour excursions aboard the 100-foot Princess or Greatland, both with heated indoor cabins, indoor and outdoor seating, clean restrooms, snack-bar.
Monterey Whale Watching
Monterey Bay Aquarium
886 Cannery Row, Monterey
(831) 648-4800
Regular hours 10:00 AM to 6:00 PM
Winter hours 10:00 AM to 5:00 PM
Summer and holidays 9:30 AM to 6:00 PM
Summer weekends 9:30 AM to 8:00 PM
Monterey Bay Aquarium
Fisherman's Wharf
Dining, shopping, whale watching, ocean activities, entertainment.
Wharf walks with maritime historian Tim Thomas, first Saturday of the month, 10:00 AM. Fee. Call for reservations: (831) 521-3304
Sailing, fishing, and glass bottom boat tours.
Fisherman's Wharf Monterey
Jazz Bash by the Bay
March 2-4, 2018
Monterey Conference Center, CA
Jazz Bash by the Bay
Monterey Jazz Festival
September 21-23, 2018
Monterey Co. Fair & Event Center, CA
Monterey Jazz Festival
Wildlife
Out in the kelp beds is the most likely place to spot a sea otter. Harbor seals are often spotted poking their heads up beyond the surf line. During the fall, winter, and early spring migrating gray whales can be sighted farther out from shore.
Brown pelicans are common along the Monterey coast line.
Surfing
Del Monte Beach is considered one of the best places for beginning surfers to learn. The waves along the entire state park beach are usually quite gentle and the shallow sandy bottom has few hazards. The best surfing is often in September and October. More advanced surfers seek out places like Asilomar Beach and Carmel Beach.
On the Beach Surf Shop
693 Lighthouse Avenue, Monterey, CA
(831) 646-9283 On the Beach Surf Shop
Rents surfboards, bodyboards, wetsuits, surf racks.
Monterey State Beach Junior Lifeguards
Every summer the State of California Department of Parks and Recreation offers its Junior Lifeguards program at Monterey State Beach. Junior Lifeguards teaches children how to deal with various water safety situations. The Monterey State Beach program is for children ages 9 through 16. The program consists of 4-week long day camps that provide instruction in first aid, CPR, ocean safety, rescue techniques, surfing and bodyboarding.
2017 Junior Lifeguard Program Dates
Sign-Ups Open: April 1, 2017, 6:00 AM
Session 1 June 5 through June 30, 2017
Session 2 July 3 through July 28, 2017.
First-time participants must attend tryouts and pass a swimming test. Tryouts and a parent meeting for Session 1 are on May 7, for Session 2 on May 21, 2017. See full details at
California State Parks Monterey Junior Lifeguard Program.
Monterey State Beach
Because of its sheltered location and a sandy beach that descends gradually away from the shore, Monterey State Beach is a popular place for playing in the waves, swimming, and lounging on the sand. Visitors enjoy a variety of activities from kite flying and volleyball to scuba diving and kayaking.
Caution: Check with rangers or lifeguards that conditions are safe for your planned activities.
Kayaking
The gentle surf conditions at Monterey State Beach make it an ideal place to launch kayaks. Paddlers enjoy exploring the shoreline west of the beach, passing the harbor, Fisherman's Wharf, and Cannery Row. Kayakers pass kelp beds where they will likely spot sea otters. Other sightings include gray whales, dolphins, harbor seals, and sea lions.
Monterey Bay Kayaks
693 Del Monte Blvd., Monterey, CA
(800) 649-5357 Monterey Bay Kayaks
Kayak rentals, classes
Launch from Monterey State Beach across from Windows on the Bay Park.

Kite Flying
Kite flyers find the steady winds at Monterey State Beach to their liking. Local kite flyers head to the northern section of the state beach. The dunes there provide an updraft that helps keep kites aloft. On weekends you will see people showing off colorful kites and performing stunts.
Diving
Monterey State Beach is popular with divers as a good place to practice diving skills.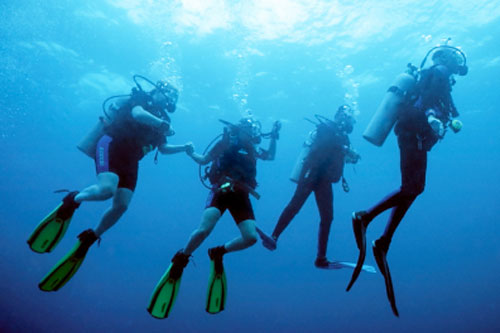 The sandy bottom beach slopes out gradually for several hundred yards. Beyond that the water reaches depths of around 70 feet. The sand gives way to a nice reef. Several wrecks are located there which provide habitat for fish.
Spear fishing is good for halibut and other species. Divers often see octopus, sand dollars, sea stars, and flounders in this area.
Aquarius Dive Shop is located at 2040 Del Monte Blvd., close to the beach. They offer beginning to advanced diving classes, equipment rentals, and sales.
Ocean Safety
California State Parks and Recreation cautions that "large surf, cold water temperatures, backwash, sudden drop-offs, pounding shorebreak, and dangerous rip currents can turn what seem like safe activities such as playing near the surf line, wading, or climbing on rock outcroppings, deadly." Learn more about ocean safety at CA State Parks: Ocean Safety