Monterey State Beach
Location
Monterey County
Seaside exit off Highway 218, west of Highway 1
Take Del Monte Blvd. to Park Ave.
Connects with Del Monte Beach and others
Admission
Free
Hours: 6:00 AM to 10:00 PM
(831) 649-2836
Main Attractions
Swimming
Kayaking, fishing
Surfing
Tide pools
Scuba diving
Caution: Check with rangers or lifeguards that conditions are safe for your planned activities.
Facilities
Special Regulations
No dogs on beach north of Best Western Beach Resort
Dogs on leash allowed south (west) of the resort
No fires on beach, except in city owned fire rings
Accessibility
Parking, chemical toilets
Beach wheelchair through Monterey Bay Kayaks: (800) 649-5357 or (831) 373-5357
Nearby Beaches
Asilomar Beach, 4 miles west
Carmel Beach, 5 mile south
Marina state Beach, 7 mile north
Webcams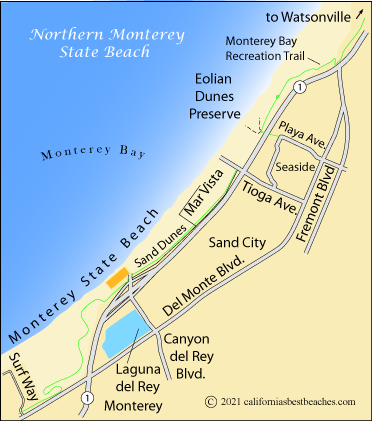 Monterey State Beach
Monterey State Beach shares the waterfront with several municipal beaches, forming a long stretch of public access sand from the Monterey Municipal Wharf to Seaside. A number of local parks and preserves adjacent to the beach expand the public areas. Connecting these beaches and others to the north is the Monterey Bay Coastal Recreation Trail.
Monterey Bay Coastal Recreation Trail
Monterey Bay Coastal Recreation Trail is a paved, 18-mile path that stretches from Castroville to Pacific Grove, connecting all the beaches in-between. Among those is the newly opened Fort Ord Dunes State Park. The trail is open to walking, jogging, cycling, skating, and similar activities.
Beach Maps
The northern section of Monterey State Beach and adjoining beaches are shown to the right.
The portion of Monterey State Beach adjacent to the city of Monterey is shown below.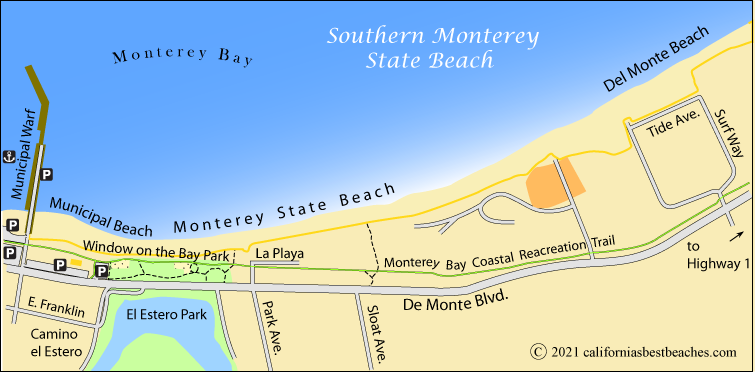 Del Monte Beach
Del Monte Beach is adjacent to Tide Avenue and Surf Way. It includes a boardwalk, volleyball courts, sand dunes, and picnic tables and benches.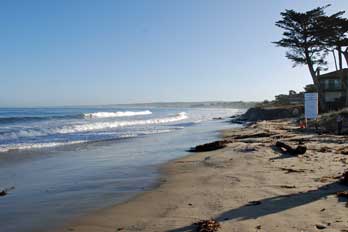 El Estero Park
Directly across Del Monte Boulevard from Window on the Bay Park, El Estero Park is filled with attractions worth visiting. Dennis the Menace Playground is a great play area with creative structures for children to explore. The playground is open 10:00 AM to dusk every day (except Tuesdays from September to May).
Inside the park you will also find a weekend snack bar, dog park, skate park (9:00 AM to dusk), boating concession, and fishing piers.
Window on the Bay Park
Window on the Bay, also called Monterey Bay Waterfront Park, is a located north of El Estero Park, next to the Monterey Bay Coastal Trail and facing the state beach. The park has sand volleyball courts, tree-shaded picnic tables, and BBQ pits. Group picnic areas and volleyball courts can be reserved. As opportunities arise to acquire more property, Monterey hopes to expand the park.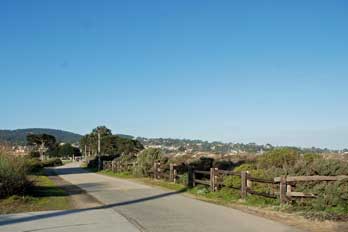 Eolian Dunes Preserve
Eolian Dunes Preserve's 28 acres are located off the Sand City portion of the Coastal Trail. The area is open to the public. The dunes were once a landfill, but were closed in 1954 and later acquired by the Monterey Peninsula Regional Park District. Restoration of the area in the mid-1990s returned it to its original character. Today the dunes are a wonderful open space for walking and enjoying views of the bay.
Ocean Safety
California State Parks and Recreation cautions that "large surf, cold water temperatures, backwash, sudden drop-offs, pounding shorebreak, and dangerous rip currents can turn what seem like safe activities such as playing near the surf line, wading, or climbing on rock outcroppings, deadly." Learn more about ocean safety at CA State Parks: Ocean Safety
Search This Site