Nearby Activities and Events
Bedford Pinkard Skateboard Park
3250 Rose Ave., Oxnard, CA
Skateboards and in-line skates only
Monday - Thursday 2PM - 8PM
Friday 2PM - 10PM
Saturday 10AM - 10PM
Sunday 10AM - 8PM
(805) 982-7121
Escondido Falls Hike
Escondido Canyon Park, Santa Monica Mountains, Malibu, CA
Hike to beautiful Escondido Falls, 3.8 miles round trip
Begin on Winding Way in Malibu.
Hikespeak
Malibu Lagoon Museum
23200 Pacific Coast Highway, Malibu, CA
Historic Adamson House and Malibu Lagoon Museum
Docent led tours
(310) 456-8432
Malibu Lagoon Museum
Sky High Sports
166 Aviador St., Camarillo, CA
The Trampoline Place
All trampoline floors and walls, a great place for fun.
Sky High Sports
Malibu Festival
Juan Cabrillo Elementry
May 6, 2018
Malibu youth musicans, petting zoo, face paining, dancing, art village, games
A joint collaboration between Webster, Pt. Dume and Cabrillo Elementary schools
Malibu Festival
Lake Casitas
Highway 150, 17 miles east of Carpinteria
Boating, fishing, camping
Lake Casitas
Point Mugu
State Park Trail Map
Point Mugu State Park
Surfing
One of the best surfing spots in the area is north of the state park along the coast of the Navy base. On those rare times when the base opens its gates to the public, surfers flock to the area to test themselves against the waves there. Surfers like the amazing right and left breaks. In good conditions there is a fast hollow break that can keep even the most experienced surfers pushing the limits. A 2012 surfing contest on the base drew 142 competitors and over 7,000 spectators.
On occasion the point at Mugu Rock can serve up some great waves, including a right tube. Access is difficult over boulders and rocks are a danger to surfers.
Caution: Check with rangers or lifeguards that conditions are safe for your planned activities.
Many surfers head south of the park to County Line Beach where the waves are easy to access. A mixed sand and rock bottom deserves caution. At the southern end expect a fast beach break and an outer reef break. The rocky north end is known as The Point. Parking is along the highway. Portable restrooms are found at the beach.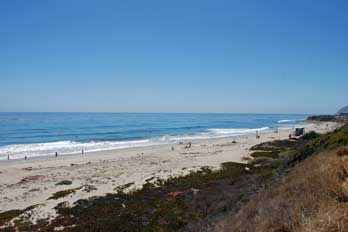 Stand-up Paddleboard Race: Malibu Downwinder
The annual Malibu Downwinder is a stand-up paddleboard race that begins at Mugu State Park, just south of Mugu Rock and finishes 7 miles south at Leo Carillo State Beach. The competition is usually scheduled for early May. After the race awards and a BBQ are held at Carillo Beach.
Proceeds from the race are donated to the Santa Monica Mountains Natural History Association, the Wishtoyo Foundation and to support the Leo Carillo Lifeguards and Junior Lifeguards programs.
Kayaking around Point Mugu
Experienced kayakers launch from Sycamore Cove Beach and make the 5 mile paddle up the coast to Point Mugu Beach. Challenging waves can make for a difficult launch and landing spots along the coast are few. Launching and landing in the churning waves is easier with someone on shore to assist.
Paddlers along the coast are likely to be greeted by dolphins and other marine life. Pelicans drop in now and then. Once past Mugu Rock, kayakers should avoid going so far north that they are adjacent to the Naval Air Station.
Hiking at Point Mugu State Park
Set off on almost any of the dozens of trails criss-crossing Point Mugu State Park and expect to be rewarded with spectacular panoramic views of the coast. Much of the foliage was burned in the 2013 fire, creating a desolate landscape until plants can regenerate, but in the meantime it provides unfettered views of the beach, ocean, and Channel Islands.
Sycamore Canyon Trail
A full-day adventurous hike can be made by setting out on the Sycamore Canyon Trail. The trek to Deer Camp is a 6½-mile round trip, while adding a return via Overlook Trail makes the full hike 10 miles. The Deer Camp hike only involves a couple hundred feet of elevation gain, while the Overlook Trail adds another 500 feet of uphill trail.
Picnic tables and water are available at Deer Camp. Because of the recent fire in May 2013 it is best to check with park rangers about the condition of the trail before setting out on any hike.
Family Nature Hikes
Park rangers lead easy hour-long nature hikes, free to anyone who has paid a camping or entrance fee. Gather at the entrance kiosk at Sycamore Canyon campground on Wednesdays at 10:00 AM. Information: (310) 457-8185
Educational Field Trips are offered for grades 3 - 12. Sycamore Canyon Guided Wild Adventures are led by park staff and docents. Self-guided explorations are available for all grade levels. Teachers should contact the park to arrange the field trips.
Junior Ranger Program
The Junior Ranger Program is designed for children ages 7 to 12. The program begins June 17 and ends on August 31. Participants learn about park animals, plants, and park history. At Point Mugu State Park they Junior Rangers meet on Fridays at 10:00 AM at the entrance station kiosk at Sycamore Canyon campground. Information: (310) 457-8185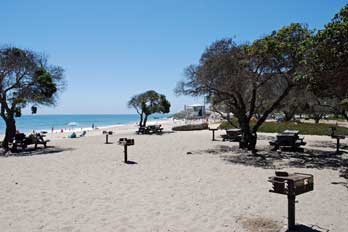 Fishing at Point Mugu
Fishermen at Point Mugu State Park need to use caution. Waves breaking close to shore have a strong undertow that can knock anglers off their feet. A number of people fishing (or sight-seeing) on the rocks at Mugu Point have been caught by rogue waves and swept into the sea.
Surf fishing at Mugu Point Beach can be good for barred surfperch and sea bass. Leopard sharks have been taken just south of the Mugu Rock. At one time a short fishing pier was located at Sycamore Cove, but winter storms damaged it so severely that it was eventually dismantled.
Ocean Safety
California State Parks and Recreation cautions that "large surf, cold water temperatures, backwash, sudden drop-offs, pounding shorebreak, and dangerous rip currents can turn what seem like safe activities such as playing near the surf line, wading, or climbing on rock outcroppings, deadly." Learn more about ocean safety at CA State Parks: Ocean Safety