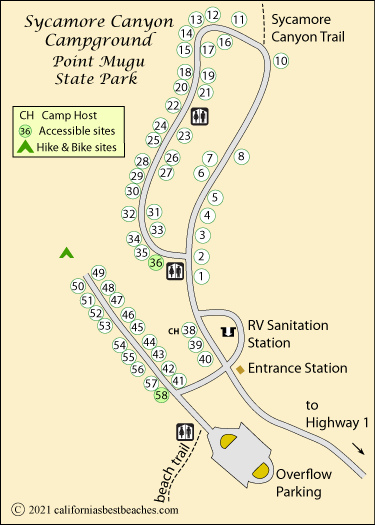 La Jolla Group Campsite
La Jolla Group Campsite, part of Point Mugu State Park, is located across the Pacific Coast Highway from the Thornhill Broome Campground. The site can hold up to 50 campers using tents. To reserve the group site, you must have at least 9 people. A maximum of 16 vehicles are allowed in the parking area.
La Jolla Backpacking Campsites
Besides the group site near the highway, Point Mugu State Park maintains a cluster of back country campsites in La Jolla Valley. The shortest hike to the campsite is about 2½ miles from the trailhead near the La Jolla Group Campsite described above. The campsites are situated under the shade of oak trees. Register at the iron ranger at the trailhead. A vault toilet is provided, but campfires are not allowed. Since it is a dry camp, you will need to pack in your own water. Dogs are not allowed
Lake Casitas and Lake Piru
Complete Information

For comprehensive information about Lake Casitas, Lake Piru, Lake Cachuma, and all of California's most popular lakes, see
Lake Casitas Campgrounds
Location: On the north shore by the marina
Phone: For Information (805) 649-2233, for Reservations (805) 649-1122
Lake Casitas Camping
Campground Facilities: Playgrounds, Showers, Restrooms
Campsites: All campsites come with Picnic Tables and Fire Rings
Lake Piru - Olive Grove Campground
Location: 40 miles east of Ventura, 0n the west shore of Lake Piru near the marina
Information and Reservations: (805) 521-1500
Lake Piru
Campground Facilities: Hot Showers, Piped Water, Restrooms, Dump Stations, WiFi
Campsite Amenities: All campsites come with Picnic Table, Fire Ring with Grill Top
Big Sycamore Canyon Campground
Because of its proximity to beaches in Point Mugu State Park and in nearby Malibu, Sycamore Canyon Campground fills up quickly as reservations become available. Reservations can be made up to 7 months in advance. New reservations are released in one month blocks on the first of each month, year-round.
Campsites are for up to 8 people, 1 vehicle and 1 legally towed vehicle or trailer. Additional vehicles will be charged an extra fee.
Showers at Sycamore Canyon have switched to a token system. A one dollar bill fed into a token machine will produce 2 tokens. There are outdoor sinks with cold water.
Suggestions and Comments from Previous Campers
Only a 3 minute walk to the beach.
Campsites are close together.
Best sites include 1-4, 10, 26, 29, 30, 40, 49
Bring bug spray.
Thornhill Broome Campground
Thornhill Broome campground, part of Point Mugu State Park, is located along the Pacific Coast Highway between Sycamore Cove and Point Mugu. 62 primitive camping sites for tents or RVs are available along the beach.
Water spigots and portable toilets are found at intervals along the campground. Picnic tables and fire rings are provided on the sand. Tents may be pitched there. There are no day-use facilities. Like Sycamore Canyon, reservations are not site specific. However, campers are usually allowed to look over the available sites once they arrive and choose one to their liking.
Suggestions and Comments from Previous Campers
The campground is mostly deserted in September.
It can get windy in the afternoon.
Leashed dogs are allowed anywhere on the beach and campground.
Some sites have rather rocky beaches.
Bring extra rope and tent stakes to secure your tent against the wind.
Nearby RV Campgrounds
Malibu Beach RV Park
25801 Pacific Coast Highway, Malibu, CA
(310) 456-6052 or (800) 622-6052
Malibu Beach RV Park
RV Sites: 142 sites, picnic tables, BBQ grills, 30/50 amp, full hook=-ups or water and electricity only
Tent Sites: 35 sites, picnic tables, dish washing area, BBQ grills
Amenities: Laundry, arcade room, game room, convenience store, restrooms with hot showers dump station, TV room, limited WiFi, lanai
Rates: $$
Walnut RV Park
19130 Nordhoff Street, Northridge, CA
(800) 868-2749 Walnut RV Park
24 miles from Malibu Pier and Surfrider Beach
RV Sites: Full hook-ups, 50 amp, cable TV for extended stay, WiFi
Amenities: Clubhouse with kitchen, meeting area, laundry, showers, swimming pool
Rates: $$
Balboa RV Park
7740 Balboa Blvd., Van Nuys, CA
(818) 785-0949 Balboa RV Park
21 miles from Surfrider Beach
RV Sites: Concrete patios, full hook-ups, cable TV, WiFi
Amenities: Restrooms, laundry, recreation hall
Rates: $$
Valley Trailer Villa RV Park
2371 East Ventura Blvd., Oxnard, CA
(805) 485-3616 Valley Trailer Villa RV Park
RV Sites: 30 amp, full hook-ups
Amenities: Laundry available, dump tank
Rates: $
Ventura Oaks RV Park
255 Burnham Rd., Oak View, CA
(805) 649-9103
Ventura Oaks RV Park
RV Sites: 60 RV sites, WiFi, full hook-Ups
Amenities: Laundry, hot showers, restrooms, picnic area
Evergreen RV Park
2135 North Oxnard Blvd., Oxnard, CA
(805) 485-1936
Evergreen RV Park
RV Sites: 94 sites with full hook-ups (20/30/50 amp), up to 42', WiFi
Amenities: Reading room and lounge, laundry, soda machine, restrooms, hot showers, picnic area
Rates: $$
Find the Best Camping in California

Campgrounds all along the Ventura County coast
Beach camping from San Diego to Humboldt
And everywhere else up and down the Golden State
Complete campground information, including fees, reservations, photos, facilities, and nearby recreation.