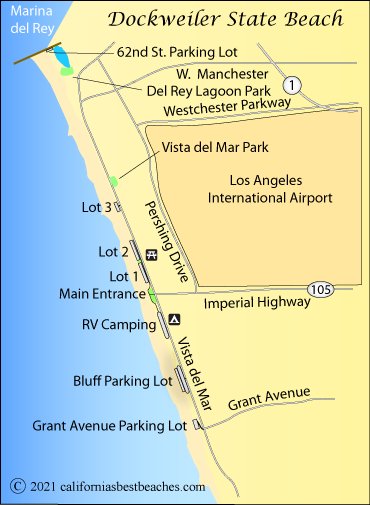 Enjoying the Sand and Water at Dockweiler Beach
Dockweiler Beach is known as a family beach. On summer days you will likely see children running about, adults relaxing in beach chairs, and teenagers charging into the surf. Dockweiler is one of the few beaches in the area that has beach firepits. With parking lots so close to the sand, it is easy to transport beach supplies.
Food concessions at two locations adjacent to the parking lots provide easy access snacks.
Dockweiler Youth Center
Located at the Bluff Parking area, the Dockweiler Youth Center overlooks the beach. The center has a main gathering room, a terrace, and a kitchen. It is used for youth activities, especially during the summer, including youth camps for ages 7 to 17. The center is also available for weddings, celebrations, and similar events. It has a capacity of 185 people. To inquire about renting the Youth Center, call (310) 726-4128.
The Youth Center is open 7 days a week from 8:00 AM to 5:00 PM.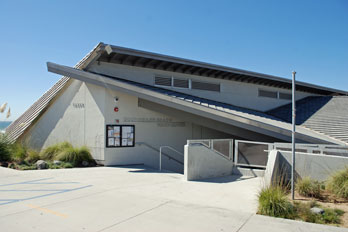 Bike Trail
The Marvin Braude Bike Trail passes through Dockweiler Beach. The full trail extends 22 miles between Will Rogers State Beach in the north and Torrance County Beach. Cyclists enjoy exploring their way from beach to beach along the bike trail's course, stopping here and there to sample the fares at the various beaches.
Public Transportation
The Metro Green Line runs to the Douglas Station where you can pick up the Metro Line 125 to Manhattan State Beach and on to Dockweiler State Beach.
Metro Line 115 runs from Norwalk Station to the corner of Pacific and Culver in Playa del Rey, at the north end of Dockweiler Beach.
If you have your bike, take the Expo Line to the La Cienega station, ride one block west on the Expo Line bike trail and then pick up the Balloona Creek Bike Path.
Dockweiler State Beach
Dockweiler State Beach extends south from the entrance of Marina del Rey. Immediately inland from the beach is Los Angeles International Airport. Airplane noise may be annoying to some, but most beach-goers at Dockweiler tend to ignore it. Although Dockweiler is listed as a state beach, it is operated by Los Angeles County.
The beach is popular for surfing, boogie boarding, sun bathing, evening bonfires, playing in the waves, and hang gliding. A designated area for launching and landing hang gliders along with rising air currents make Dockweiler a favorite with local flyers.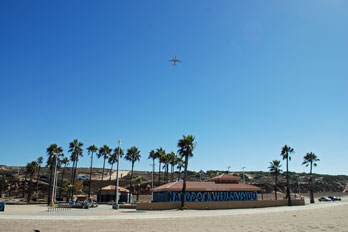 Facilities
Facilities at Dockweiler include restrooms, lifeguard towers, picnic areas, volleyball courts, a bike trail, a Youth Center, hang gliding launching stations, and food concessions.
Parking at Dockweiler Beach
Several parking lots are located along Vista del Mar. Lots 1 and 2 are the main entrance to the beach. Restrooms and a concession stand are near the entrance. Lot 3 is a little distance north. It also has a restroom.
Farther south is Bluff Parking which has a Youth Center, concession stand, picnic area, restrooms, and hang gliding facilities. Even farther south at Grand Avenue is another parking lot with portable toilets. Back at the far northern end of the beach, fronting the entrance is Marina del Rey, is the small 62nd Avenue Parking Lot.
The RV Parking Lot is a camping area with 117 spaces for for RVs and trailers. No tents are allowed there. Camping fees apply.
There is some free street parking. Pay close attention to the parking signs. Most parking is from 6:00 AM to 10:00 PM, and they are strict about issuing tickets to anyone parked after the dealine.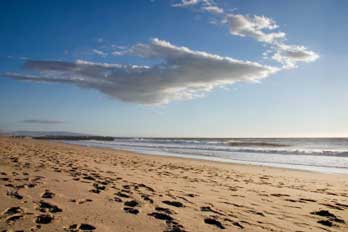 Dockweiler Beach Area Casual Dining
North Beach
Central Beach
Justa Pizza, 100 W. Imperial Ave., El Segundo (delivery and pick-up)
Melting Pot Rotisserie, 958 Main St., El Segundo
Subway, 960 Main St., El Segundo
PL & L Hawaiian Barbecue, 954 Maint St., El Segundo
Hank's Pizza, 202 E. Imperial Ave., El Segundo (delivery and pick-up)
South Beach
Good Stuff, 131 W. Grand Ave., El Segundo
Havana Sandwich Company, 229 Main St., El Segundo
>Chicken Dijon, 251 Main St., El Segundo
Tarasco Mexican Food, 210 Main St., El Segundo
Big Mike's Philly Steaks and Sub, 507 Main St., El Segundo
Ocean Safety
California State Parks and Recreation cautions that "large surf, cold water temperatures, backwash, sudden drop-offs, pounding shorebreak, and dangerous rip currents can turn what seem like safe activities such as playing near the surf line, wading, or climbing on rock outcroppings, deadly." Learn more about ocean safety at CA State Parks: Ocean Safety